Last week we had our first houseguests in our Seattle apartment! My sister and her boyfriend came to see us for a long weekend – they were here from Thursday morning to Monday morning. My sister said she wanted to spend "100%" of the whole long weekend with me, so I took Thursday and Friday off from work (and the weekend, too – I usually work quite a bit on Saturdays and sometimes on Sundays). Kyle worked on Thursday and Friday but joined us both evenings and over the weekend. It was a good opportunity for us to play tourist in our new city. Even though I'd visited Seattle a number of times before I moved here, I hadn't hit many of the headline sights.
We actually made a detailed itinerary for this trip. My sister and her boyfriend gave us a list of things they wanted to do – mostly restaurants they wanted to eat at – and I added a few more activities and organized it into what we would do on each morning/afternoon and for meals.
The cost of this staycation was a bit fuzzy because we kept trading off who was paying for things. My sister and I tried to balance everything out between the couples and we got close, I think, except that my sister's boyfriend paid for an expensive dinner (as a thank you for letting them stay with us) and we paid for a not-as-expensive dinner. I'll just give our total out-of-pocket cost at the end of the post.
Thursday
My sister's flight arrived in the morning. I fixed lunch for us at our apartment. We went stand-up paddleboarding in the afternoon on a lake near our home and walked across the Ballard Locks.
In the evening, we went to a bar so my sister and her boyfriend could watch their preferred professional football team play, and we ate dinner at the bar.
Friday
We had breakfast at our apartment and then headed out for a day at the Seattle Center. We went up the Space Needle to check out the view, and it was fun to see the city I'm starting to get to know from above.
Then, we walked through the Chihuly glass museum and gardens, which was truly amazing.
While I think one visit to the Space Needle is sufficient for me, I would definitely bring guests through the glass museum many times. We then walked to get lunch at a pizza place, and my sister and her boyfriend picked up cupcakes from a specialty shop. When Kyle got home from work, we went for a hike in a park near our house, which gave us a nice view of the waterfront at sunset.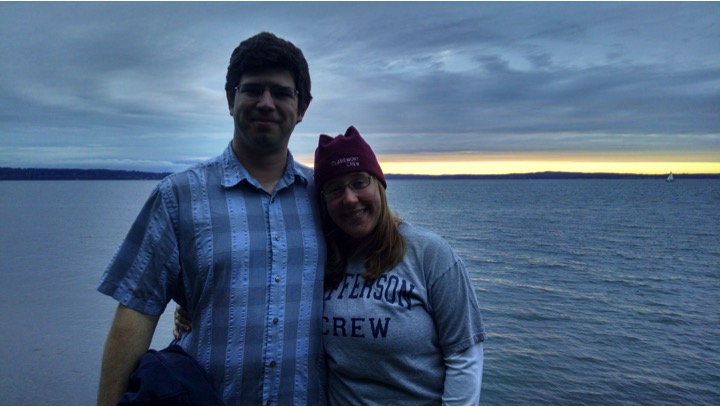 Then we fixed and ate dinner at our house and played board games for a few hours.
Saturday
Our first stop for the day was a breakfast hotspot downtown.
Immediately afterward, we walked through Pike Place and visited the gum wall.
We enjoyed the waterfront again by walking through much of the Olympic Sculpture Park and Myrtle Edwards Park. Exhausted from our heavy breakfast and all the walking, we went home and took naps. That evening, we went for a 9-course dinner at a sushi restaurant, which was truly amazing. That's the first of that kind of meal that Kyle and I have ever had!
After our 2.5 hour dinner we returned home and played a few more games.
Sunday
My sister and her boyfriend woke up early to drive to another city to see some of his family friends while Kyle and I went to church. We met up near Pike Place again for lunch. In the afternoon, we showed them pictures from our cross-country trip. We tried to see the lunar eclipse near our house but were unable (Seattle is hilly!), so we drove to Gas Works Park to see the second half of the eclipse and also enjoyed the downtown skyline and fire dancers.
We had one last dinner out and then bought some dessert at a grocery store after an unsuccessful search for mochi.
All in all it was a very fun weekend and I was glad to spend time with my sister and see some of the sights in our new city. However, I do have some buyer's remorse over the amount of money we spent. Our total for food, entertainment, and parking was about $375 (not including extra groceries). Stand-up paddleboarding was about $18, the Space Needle and glass museum together were $36, and the vast majority of the rest was eating out. That's a crazy lot of money for us to spend on eating out over the course of a month, let alone a single weekend.
In comparison to traveling to another city for a long weekend, of course this was a steal of a deal. But I think I would have had just as much fun eating out once per day or less. However, my sister and her boyfriend like to get to know a city by eating through it, and we let them choose how much and where we would eat out, which was pretty atypical for us. Definitely playing into this was the fact that they were on vacation and probably spending more freely than is typical for them, while we were in our home city and constantly reminded that we were spending way above our normal patterns.
That is a good lesson for us on vacating with other people. Because they were guests in our city and family, we deferred to my sister and her boyfriend's preferences on how much money to spend. I think in the future I will try to have more autonomy in spending choices from co-vacationers unless we know they at the same level of frugality as we are (or more frugal!). I think this will be easier with houseguests or traveling companions who are not family members as there will be less of an expectation to spend 100% of our time together.
Have you taken a staycation recently and if so what did you do? When you have houseguests or travel with other people who have different spending habits, how do you compromise on what to do?
Filed under: travel · Tags: Seattle, staycation