This was our second full month living in Seattle and our spending is finally settling down. We have our apartment more or less fully furnished and stocked now. We have a weekly routine and we picked a church to attend.
This was a very fun month as we are now starting to explore the city a bit. We are trying to figure out what our new hobbies will be, so we took a stand-up paddleboarding lesson. We saw some touristy sites and new parks when my sister came to visit.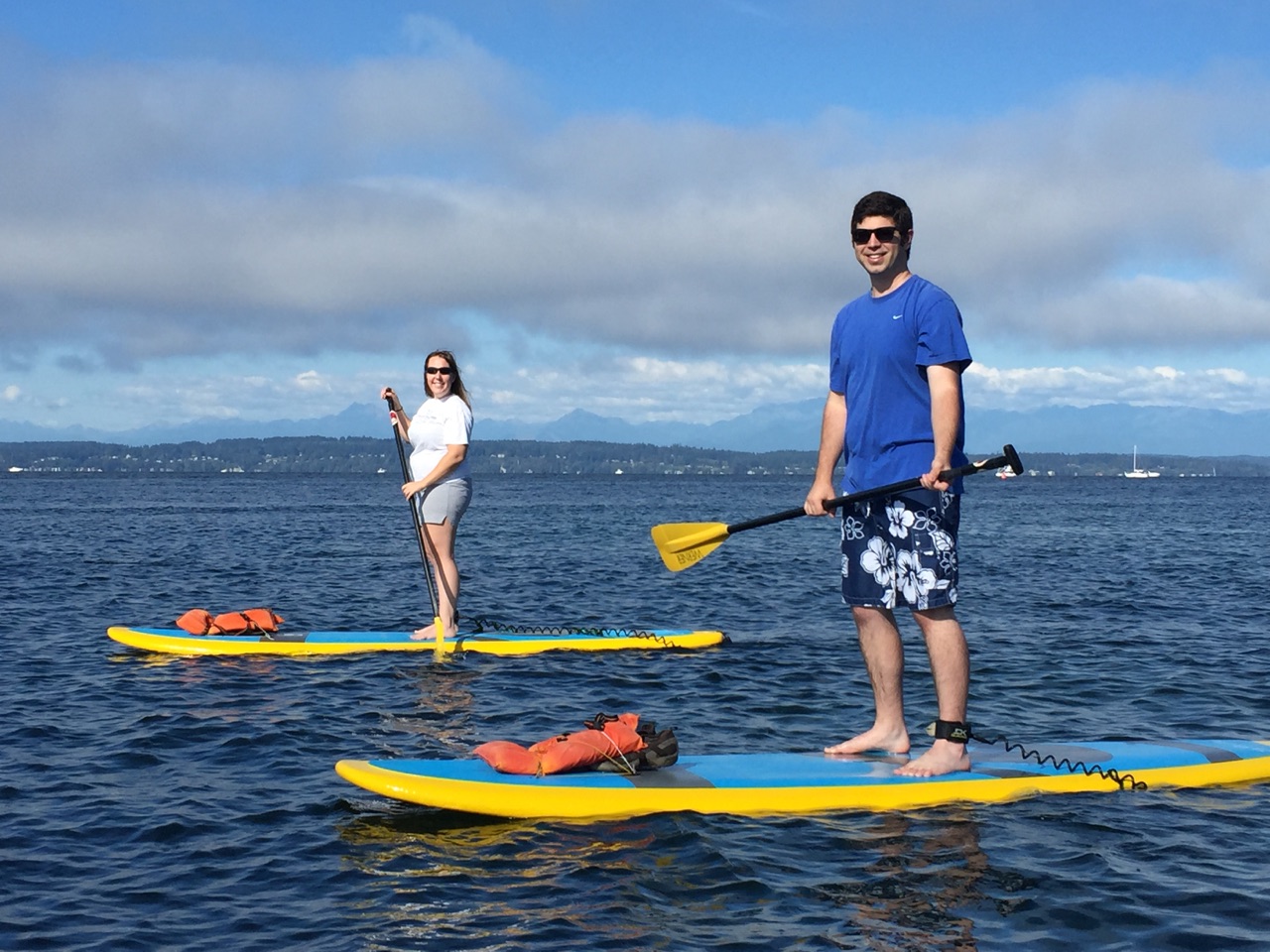 September is the last month where I will report a money puddle and a bottom line of whether we over- or under-spent our available income for the month. Now that our income and expenses are normalizing, we are ready – after over a year of "money puddles" – to use a normal budget again. I fully expect to be consistently living within our means going forward!
Starting in October, we are going to live off of Kyle's income alone to make budgeting easier. I probably won't pay myself from my business until the end of the year, and we can set aside my contract work income.
Money Puddle
Our money puddle represents our gross income from August, less taxes, our tithe, and savings into our Roth IRAs. This is the source of all of our spending money for the month (before dipping into savings).
August 2015 Money Puddle: $1,906.22
Sources:
Kyle's first real job paycheck! (half of a month)
Spending
Housing and Utilities
rent $1375
water $120
electricity $42.20: We were pleasantly surprised by this bill. About $25 of it was a start-up fee, so the electricity use itself was quite inexpensive.
internet $49.99: Our first bill from Comcast was for the wrong amount – we actually signed up for a $45/month plan. Typical!
cell phones $61.53: This month, we had our normal cell phone costs of $26.53 for Republic Wireless and $35 for Cricket Wireless.
Food
groceries $644.09: Another month of high grocery spending, but thankfully not as extreme as last month. I'm hoping to get under $600 next month!
eating out $83.92: I'm pretty happy with this level of eating-out spending. Aside from our staycation, Kyle ate out for a few lunches (he's trying to join his coworkers whenever they eat off-site) and we went out together once.
Transportation
gas $39.312: I love our low cost of gas! It's a combination of cheap prices and only driving a few times per week.
car insurance -$80.49: This was a refund on our car and renter's insurance from Durham. We pay 6 months at a time and we canceled the policy a bit early.
car registration $128.25: The cost to register our car in Washington.
Miscellaneous
student loan payment $98.32
furnishings $10.96: We just had one last piece of furniture to buy after our binge last month; an office chair for Kyle, which he bought from a university surplus store.
Netflix $21.48
guitar $175.35: Kyle bought himself a little present! He finally had to return the friend's guitar he had had for five years when we left the city.
staycation $363.51: My sister visited us at the end of the month, and we spent a ton of money over the course of the long weekend.
Reimbursed from Charitable Giving
missionary support $150: We are now supporting two missionaries.
Assessment
Money Puddle: $1,906.22
Total Spending: $3,135.69
Difference: -$1,229.47
I really, really hope this is the last month that we so far overspend our income – until our next job transition!
Is your budget changing at all going into the fall? If you have self-employment income, how often do you pay yourself from it?
Filed under: month in review · Tags: staycation, transitions