I admit I've been a quite confused by W-4 forms for a few years now. In the perennial debate over whether it's better to get a tax refund or pay additional tax on April 15, my preference is to the smallest refund or owe the smallest amount possible. In the past several years, we've done pretty well hitting that nail on the head, but it's not due to any great spreadsheet wizardry; it's mostly been luck. In grad school, Kyle had a little too much withheld and I had a bit too little withheld, and that worked out quite well. Last year we radically over-saved to pay our tax bill, which ended up being only $37!
Part of the reason we haven't gotten into major spreadsheet wizardry is that I find W-4 forms to be rather an enigma. You answer a few questions about yourself and your family and the Personal Allowances Worksheet spits out a number of allowances you're supposed to claim on your W-4 (more allowances reduce your tax withheld). But there's no math explicit on that form so it seems like a guessing game. How do you know that the way you fill out your worksheet will produce an accurate result?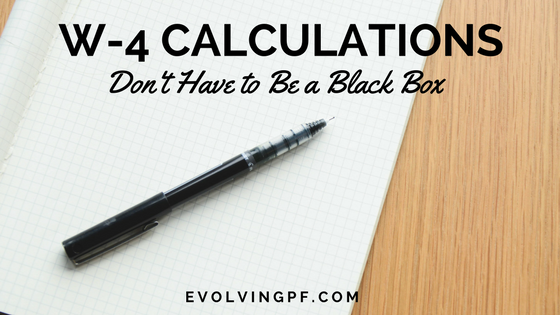 This week, Kyle and I debated whether we should change the amount of money he has withheld from his salary in favor of making estimated tax payments on my income manually. The overall goal is to pay the right amount of tax without sequestering too much money in our Taxes savings account (as we did last year). This led us to examining a blank W-4 and Kyle's pay stubs to try to figure out how many allowances he claimed when he first filled it out almost two years ago.
The IRS does provide a calculator to help you figure out how many allowances (and/or additional amounts withheld) to claim on your W-4. It's totally fine as calculators go, but in the end it's like the worksheet – it just spits out a number of allowances (with a few extra explanatory other numbers) but does not show its work. The other issue with the calculator is that it decides on the number of allowances you need to claim based on how much you've had withheld to this point in the year. That's useful in some situations, like if you're changing jobs and incomes, but wasn't what we were looking for as we just want to know the proper number of allowances in perpetuity.
So I hunted around and it turns out that the math behind the W-4 calculations is explained in Publication 15 (Circular E), Employer's Tax Guide. Allowances help you approximate the amount of your income that will ultimately not be taxed due to your (family's) exemptions, deductions, Child Tax Credit, etc. Each allowance is worth $4,050 per year in 2017 (the same value as a single exemption).
We set up a simple spreadsheet to figure out how many allowances is best for the amount of tax we want to have withheld each pay period. A model calculation is on p. 44 of Publication 15 (Circular E). You identify your gross pay per pay period. Then, you multiply the number of allowances you're considering by the amount each allowance is worth per pay period. You subtract the second number from the first to get the amount of income on which withholding will be calculated. Finally, you find the amount of money withheld on that amount of income in the tax tables on p. 47-66 or using the formulas on p. 45-46. (Formulas are easier since you're already using your own spreadsheet! Then you can see how the math works.)
We figured out that Kyle had claimed 0 allowances on the W-4 he submitted when he started his current job. The IRS calculator told us that we should claim 10 allowances to get to our target amount of tax due for 2017. Our own calculations showed us that between 5 and 6 allowances is the right amount going forward for the rest of 2017 and beyond.
I'm so glad I found this calculator and publication! I feel much more confident that we can appropriately match our tax withheld and estimated tax payments with our tax due. Now when we submit Kyle's new W-4 we don't have to wait for the first paycheck to know exactly how much he'll have in take-home pay!
Have you dived deep into a calculator or spreadsheet to determine the number of allowances to claim on your W-4? How has your number of allowances changed over time?
Filed under: taxes · Tags: withholding