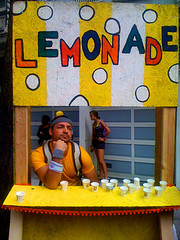 I never heard of side income or multiple revenue streams until I got into the PF-blog literature.  When I was growing up my parents each had 0 or 1 jobs (never self-employed) any other work they did was volunteer.  Now it makes perfect sense to me that you have increased security with multiple incomes, but it's definitely a challenge to fit in any additional ones if you have a full-time primary job.
Technically, as part of my contract at graduate school I am not permitted to be employed anywhere else.  I am also fairly locked into a payscale and there are no chances of significant raises (barring getting very lucky with a prestigious fellowship, which I have not) until after graduation.  So while the prospect of side income has become more appealing, it has also become less attainable.  I do have small drips of income from other sources occasionally coming in now, but nothing that I would consider a job or competing at all time-wise with my research.
Part-time jobs or side income streams I have engaged in while in full-time school or full-time work:
babysitting
soccer referee
desk jockey at student activities center
children's tutor in math and reading
peer tutor at the Writing Center
clinical studies
tutoring high school students
online surveys
interest/rewards/Upromise – The Smart Way to Save for College
middle school
high school
college (work-study)
college (work-study)
college (work-study)
post-college
post-college and grad school
post-college and grad school
grad school
By far the best-paying activity was doing clinical studies while I was working at the National Institutes of Health.  The going rate was $40/hr and I got closer to $50/hr when I did MRIs.  I paid for a cruise vacation solely through doing studies.  I didn't participate in anything crazy or invasive, either – my rule was "nothing goes into my body."  If you were willing to take drugs or let them monitor your excrement there was big, big money to be made.  Plus, nearly every study I did was rather fun!  I have been sorely disappointed that at my current university the clinical studies pay about $10/hr, so I've only done a couple that have really interested me (not for the money).  It's a supply and demand problem – too many undergrads willing to sell their bodies!
Depending on how this blog grows, it could become another source of side income.  I'll start setting specific goals for that as I learn more.  I have heard of another paper-editing opportunity with a local company that is open to graduate students at my university that I might pursue next summer.  That would be more for career advancement than side income purposes, though.
Of course, the ideal form of side income is passive income, where you don't have to do any additional work to generate continuing revenues.  Making your money work for you and receiving interest or dividend payments is an example.  Other than paltry amounts of interest/dividends, which to a great extent I don't touch, and credit cards rewards and the like, I haven't set up any passive income streams.  I haven't yet heard of any passive income ideas (aside from published writing) that have really piqued my interest, but maybe I will come across some in the future.
Are you currently pursuing multiple income streams?  Have you ever had a source of side income that paid well and/or you really enjoyed?  Do you have any sources of passive income?
photo from maubrowncow
Filed under: side income