For the last six months or so I've wanted to max out my IRA.  Like, I'm dying to.  I've looked at our budget numerous times, attempting theoretical cuts here and there that could get me to the limit.  I took my contribution from just under 10% of my gross income to about 16% but going the rest of the way is just not happening.
Why do I want to max out my IRA?  Two psychological precepts are working against me (for me?) – portion sizes and keeping up with the Joneses.
1)  Portion sizes.  I'm sure you all have heard of studies that that people tend to let the amount of food in front of them influence how much they eat despite their actual hunger levels i.e. they eat more when served larger portions.  If the average person falls prey to this to some extent, it works on me many times that.  I always finish what's in front of me, at a restaurant or at home, hungry or not.  I hate to see food go to waste (even if I'm just going to keep the leftovers!).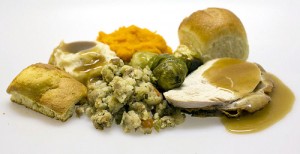 Now think of the contribution limit for the IRA as a portion size.  I desperately want to "clean my plate" and get to that $5000/year level!  When I was only contributing $2400/year that seemed impossible and that I clearly didn't need to get to that level (perceived an obscene amount of food on my plate).  Now that I'm on track to contribute $4200/year, $5000 seems tantalizingly close.  It feels like I could just stuff myself a little bit more and max out.
2)  Keeping up with the Joneses.  That is, if the Joneses are Kyle.  Before we were married, Kyle set his contribution levels so that he maxed out his IRA.  His expenses were a bit lower than mine and he made slightly more money so he was able to swing it.  I want to be able to max out too!  This makes little sense because it's all "our" money now, so really "we" are saving $9,200 out of a possible $10,000 – but the accounts are still in his name and my name so I feel like I'm behind!
Why is it a bad thing that I feel pressure to max out my IRA?  Saving more for retirement should be a good thing.  Maxing out both of our IRAs would be saving 17.5% of our gross income toward retirement – at a time in our life and an income level where more of our peers save nothing or even go into debt.  And it's not that we have the money lying around with no purpose.  We have cut out luxuries and have other savings goals to which we could be contributing (next car, house down payment).  It doesn't make much sense to tie up or money in our IRAs when we could work on multiple savings goals at once.
And yet, the $5000 beckons…
So tell me, am I crazy?  Do you fall prey to your psychology as well?  How do you determine how much to contribute to your retirement accounts?
photo from Greatist
Filed under: budgeting, goals, retirement, savings, stock market