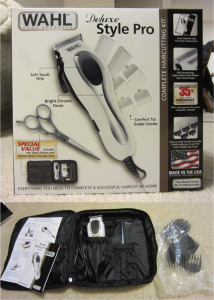 Last week, Kyle came home with a set of hair clippers from Costco.  We had been talking about me cutting his hair at home for a little while and he finally took the plunge.  The haircuts he asks for from the professionals are just straight from the clippers, #2 on the sides and #6 on top, so it didn't seem like it would be too difficult for me to do as well.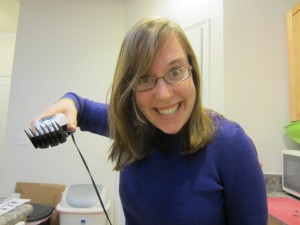 I studied the haircutting directions but it was definitely challenging to put it into practice!  We set up in the kitchen to facilitate the cleanup.  Kyle has very, very thick hair and a pronounced cowlick.  I started with #8 all over his head to get a feel for how to do it, then #6 all over.  Kyle asked for #4 on the lower half of his head but then we redid it with #3 when he thought it looked too shaggy.  The most difficult part was blending between the two lengths.  I did a pretty good job on the left half of his head but not such a great one on his right side – some combination of my right-handedness and the way Kyle's hair lays.  The kit came with special ear combs, but I think they left his hair a bit too short in comparison with the #3.  I finished up with the razor straight on his head for his neck and sideburns.  Kyle didn't like what I did with his sideburns so he fixed them himself with his beard razor and he asked me to redo a bit on his temples.  Overall he told me I wasn't pressing hard enough against his head to really follow its contours, so that's something I'll have to do better next time.
The most fun part of this process was making a huge mess on our kitchen floor and not having to clean it up (Kyle took it as his responsibility).
Here is the final result, after he rinsed his hair out!  It definitely isn't as good as a professional job, but we decided to wait a few days and see how it shakes out.  We might try more touchups at home – I don't think we'll need a professional rescue.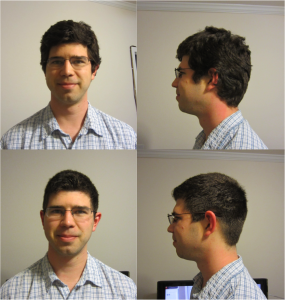 What's the financial impact?  We paid $20 for the set of clippers.  Kyle gets his hair cut about three times per year and pays $20 per haircut (he lets it grow quite long and cuts it quite short).  The clippers paid for themselves with just this first cut, as long as Kyle doesn't decide he has to get someone to fix it.  Over 5 years (I think the clippers should last at least that long), we should save $280, or even more if we cut it at home more often.
Filed under: frugality