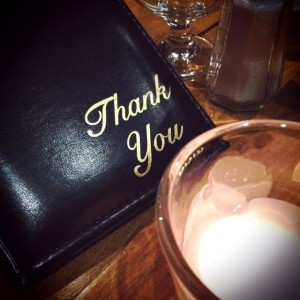 Most of the time I consider being frugal a virtue. Emily and I strive to live within our grad student means, so that necessitates cutting some frills from our lives. However, we need to be careful not to take this too far. There was a time in college when my friends and I moved from frugal to cheap that caused a great deal of tension within the group. In retrospect the whole incident was silly, but it influenced the way I approach money and generosity.
About ten of my friends and I decided to go to Applebee's to celebrate our friend's birthday. We had a great celebration, but the trouble started when the check came. Three people had to leave early because they had a class, so they had left the money that they thought they owed and went to class. After they left, we decided that we were all going to pay for the birthday boy's meal. Everyone passed in his money and we counted it all up to make sure we had enough. As you might have expected, we were short by about $20 (a decent amount for us poor college students).
We set out trying to parse who had paid what and where we were short. Apparently we were taking an especially long time, because the waiter came back asking for the check. After some more struggling, one of our friends questioned our competency and she took the check from us since "figuring out a check shouldn't be that hard." After some struggling of her own, she took out her TI-89 from her purse (yes, we are that nerdy), but she still couldn't figure out where the missing money was. At this point, I'm ashamed to say, we mocked our friend for thinking she was better than us and still being unable to figure out the deficit. The waiter came by a second time and we still didn't have it ready for him. We finally had to give up and a few of us pitched in the necessary money to cover the rest of the check.
In retrospect, there was definitely some fallout from us making fun of each other (in a fairly nasty manner). While several factors compounded to cause us to not have enough money, there was an easy solution that wouldn't have resulted in insults. Since so many people were there, if each of us were just automatically willing to put in a few more dollars this whole thing would have been averted. But since all of us were so concerned with "fairness," meaning we only paid just the amount we owed, conflict arose. Actually, the only person willing to put in more money was the birthday boy, which we refused since we were being "nice" and paying for him.
I reiterate that this event on the whole is very silly, but I have become a more generous person because of it. I now recognize how stupid it is that a few dollars can cause problems within friendships and acknowledge that my desire for "fairness" is just an excuse for me to be stingy. Now I strive to be the person who is always willing to provide the extra bit that is needed, whether that is money, time, or just food for an event.
So what was it about that check that we just couldn't figure out? ORANGE JUICE! The birthday boy had ordered about 4 orange juices and it wasn't clear on the bill that the total price of the orange juice was 4 times the amount listed. Well, that and the fact that the three people who left only gave enough money for their food and not for tax and tip.
Do you have any experiences, however small, that have put how you treat your money and other people in perspective?
Image Credit: creativedc
Filed under: food, frugality · Tags: argument, dining out, friends