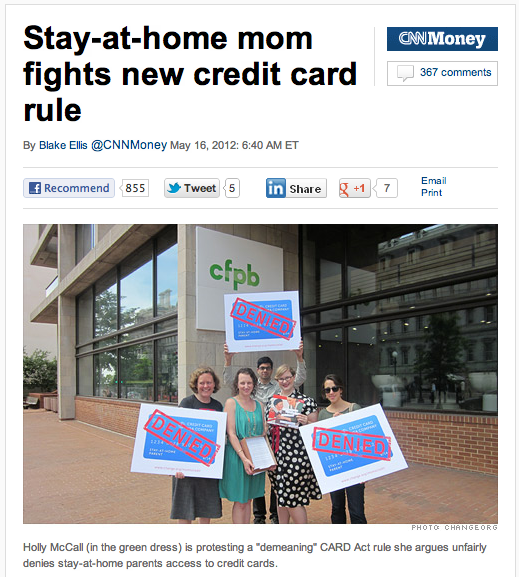 I read an article last week on CNN Money with a premise that I found absolutely ridiculous.  The article covered a group of stay-at-home moms (parents?) who were protesting a portion of the Card Act that requires that credit issuers evaluate a credit applicant based on his/her individual income instead of household income.  The result was that some stay-at-home parents with good credit scores have been denied credit cards when they applied for them in only their names.
This situation plays in very well with our discussion of joint and separate money management as well as attitudes.  I would venture that the vast majority of stay-at-home parents have joint accounts and money with their working partners and are probably largely or fully supported by their spouses, and that is my assumption going forward with these comments.  My objection is that the protestors' position is logically inconsistent.  They want to apply for credit in just their own names, but they want their spouse's income to be considered in support of their independent application.  Of course I think that the SAHPs should have access to credit, but to me it's reasonable that the credit should be joint with the wage-earning spouse.
One protester (the spokesprotestor) is quoted as saying "I think it's demeaning — I don't want to ask my husband's permission for a credit card."  I have major issues with this statement – this woman is either deceiving herself or has a communication problem in her marriage.  Depending on her husband for access to credit is the same thing as depending on him for money, which she must not find demeaning because she's already doing it.  Or perhaps it's the asking she finds demeaning, which I think says a lot more about the communication in her marriage than it does about the logic of this legislation change.
Remember, the issue is not access to money but access to credit – as in, some bank's money.  A creditor needs to have a reasonable expectation that an applicant will pay it back, which is why they do the credit score and income checks.  Without an income, how can they be sure that the account will be paid and whose wages can be garnished if it isn't?  A spouse can't be held liable for an account solely in the other spouse's name, only the person issued the credit (unless they live in a community property state, which the spokesprotester does not).  In this case of non-income-generating SAHPs, there would be less recourse for the lending agency. So it makes sense to only consider the credit score and income of the applicant, not the applicant's spouse.  Again, all these problems disappear if the applicant and spouse have fully embraced to a joint property mindset and accounting structure instead of playing these transitional/joint vs. individual games.
Frankly, what surprises me most is that people without incomes were granted their own credit lines before!  The creditor is choosing to lend money to someone who is, to be frank, unemployed.  Someone who is unemployed but has access to money could just use a debit card, you know.  They don't have to borrow money to make purchases!
The protestors seem to want to turn this into some kind of womens' right's/mommy wars issue.  (The spokesprotester again: "Just because I don't get a direct paycheck for [my work], doesn't mean it's not worthwhile work that I'm doing.")  But the worth of parenting and housekeeping and everything else they do is not at issue, just their lack of paycheck!  I think that if these parents were secure in their contributions to their families, they wouldn't find it "demeaning" to ask their spouses to apply jointly for credit.  I don't have any problems with single-earner families – Kyle and I may very well be one at different points in our marriage.  But I think it's silly to pretend that the non-income-earning spouse is not in many ways dependent on the income-earning spouse, which is what issuing individual credit lines to non-income-earning spouses is doing.
Who do you think is more right – the Card Act or the protestors?  Do you think people should be given credit if they have low or no income?  Does anyone else feel like this was a practice exercise for the analytical section of the GRE?
Filed under: credit cards, income, marriage · Tags: application, CNN, credit cards, protest, SAHPs