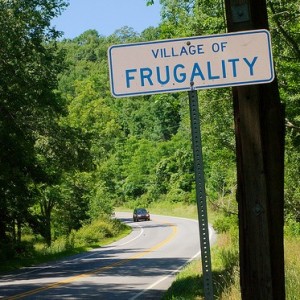 I consider myself a frugal person.  I like finding ways to cut back on our expenses so that we can put money toward our goals or fun activities/purchases.  However, I often come across frugal tips that make me think "No way!"  Either the trade-offs don't make financial sense, I find the alternate activity unpalatable for some reason, or it just wouldn't work in our family – whatever the reason, I've read plenty of tips that I'm not willing to implement.
I'll share with you some examples of tips that I'm not willing to try as well as some that I have.  This is a very subjective list so you're welcome to share in your comments how you use some tips that I think wouldn't work or how what I do goes too far in your mind!  (And of course, if our financial situation were tighter, I'm sure there are plenty of "too far" tips that might start looking more attractive.)
10 Frugal Tips that Go Too Far
1. Cancel your home internet service – I don't know how we would survive without internet at home!  We've already canceled cable (see below) so our entertainment comes largely over the internet – Netflix/Hulu and online video games, for a start.  Add to that Kyle working from home quite often and the overall dependence we have on being able to look things up online and this one doesn't seem feasible for us.  We like our mindless entertainment!  I know some people use their smartphones when they need internet access at home, which is somewhat of a stopgap.
2. Bike to work – Don't get me wrong, I like this tip a lot and it definitely works for others.  I had some hopes to do this when I first moved to NC but our town is about as bike-unfriendly as it gets.  The route I would have to use to get to work has a large section of narrow (barely any shoulder), windy, hilly, and unlit road.  (Don't ask me how or why there are no streetlights on this road.  It makes no sense.)  I don't have enough confidence in myself or the drivers around here to do go that route daily.
3. Give up your smartphone – I don't have a smartphone but Kyle does, and having one in the family makes all the difference.  He actually went a few months without it two years ago when he was waiting for a contract to end, and it didn't work out well.  We rely on the smartphone heavily for GPS navigation and being able to stay connected to our email while out.  Kyle in particular is vigilant about responding to his advisor's emails when he receives them.  I might have thought that this tip would work for us except for the period when we actually tried it – we survived but it wasn't pleasant!
4. Negotiate – No.  I don't do this.  It's not in my personality.  I recognize it's a defect and that I should work on it but I haven't.  Similarly disadvantaged, Kyle attempted to negotiate with our cable company to reduce our price and failed.  I've heard that you can sometimes negotiate lower prices at stores using cash, but to me it's not worth it to carry the cash.  When I get a real job I will negotiate salary and benefits, and maybe that will help me over the hump to doing it in everyday life.
5. Buy less-processed and slice at home – We often do this for vegetables, but I would never implement this for cheese even though it would shave a bit off our grocery bills.  I use shredded cheese on at least one or two dishes per day and Kyle and I both used sliced cheese.  It's not worth the time to me to grate or slice it and then clean up the kitchen utensils used.
6. Eliminate meat from your diet (or reduce) – Hell no.  We love our meat.  Humans evolved eating meat and that's what our bodies are suited to digest, not cereal grains.  (Can you tell I've been reading about the Paleo diet?  The pot shots Robb Wolf against vegans and vegetarians that he sprinkles throughout The Paleo Solution made me chuckle every time.)
7. Hypermile – Our cars are already fairly fuel-efficient and I like to get places fast.
8. Stockpile discounted non-perishables – We live in an apartment that is already stuffed with wedding gifts.  Honestly, we barely have room for the bulk packages of paper towels and toilet paper that we get from Costco.  If we bought more we would have to use them as living room furniture.
9. Unplug your electronics when not in use – I can't even imagine what a pain this would be.  I actually suggested it to Kyle a few months ago and he refused.  This is one where the rewards are not worth the time we would put in.  Plus Kyle often has to leave his desktop on overnight to run simulations for work.
10. Take shorter/cooler showers – I like hot showers and Kyle likes long showers.  This is one of life's little pleasures that I'm not willing to give up!
Reflecting on this list, I think it's funny that conservation arguments would be much more effective at getting me to implement some of these tips than money-saving arguments (2, 6, 7, 10).
Now for the tips we do employ!
10 Frugal Tips We Actually Use
1. Cancel your cable subscription – We cut out cable shortly after we got married.  We get our TV from Netflix, Hulu, and over-the-air broadcasts.  I really don't miss it and the only frustrating part is not being able to watch all the sports we want, but another couple in our basketball group invites us over quite often to watch the games we don't have access to.  I can't wait until the current cable model fails and we can do a-la-carte subscriptions.
2. Air-dry your laundry – We've been doing this for a few months now and have definitely noticed a drop in our power bill.  We hang up all our clothes to dry except jeans, socks, my underwear, and towels.  We live in an apartment and don't have a ton of room to line-dry, so we just put our clothes on hangers and put them on the shower rod in our second bathroom overnight.  Works great!
3. Delay upgrading electronics – I have had my cell phone since 2006 and Kyle has had his for almost 2 years.  We have no plans to upgrade his but mine is on its last legs.  I think it's served me well and has definitely held the line against lifestyle inflation!  I also recently found out I can get my 1st generation iPod nano (bought in 2005) replaced because of a manufacturing defect, even though it still works fine – woohoo!
4. Buy used – Both our cars were bought used, most of our furniture is from craigslist, and part of the surround-sound system Kyle set up is refurbished.  (I draw the line at buying used clothes, however.  It just ooks me out – I don't even borrow clothes from friends or family.)
5. Install ceiling fans – We installed our third fan last summer and definitely noticed a drop in our power bill from our reduced A/C use.
6. Bring your lunch to work – I haven't had to buy any food at work in a year at least.  I really just prefer to eat food I prepared!  Kyle doesn't always bring his lunch but he never buys – he has a lot of opportunities to get free food and he freakishly doesn't need to eat for hours at a time.
7. Cut your hair at home (for men) – We attempted this for the first time a couple weeks ago and it went fairly well!  The clippers we bought paid for themselves in just one session.  (I wouldn't let Kyle cut my hair though, especially now that I'm getting complicated bangs and layering.  Maybe back when I was keeping it all the same length we could have done it at home.)
8. Use permanent water bottles – Yep.  All the time.  No-brainer.
9. Buy store brand groceries – We do this almost 100% and it's rare that I would prefer a name brand of anything.  I think the only name brands we still buy are Kraft macaroni and cheese and Oreos.
10. Cancel your magazine/newspaper subscriptions – I haven't had a subscription to a magazine since my parents got internet access, and we get free newspapers at work.  It's all online anyway so why pay for print?
There are also a few tips about which Kyle and I feel and behave differently.
"House Divided" Tips
1. Eat free food whenever offered – Kyle does this and it probably saves him a couple meals per week.  I am picky so I virtually never eat free food at work.
2. Give up soda/coffee/juice/etc. – I gave up non-water beverages over a year ago, but Kyle still buys soda and milk regularly and juice and beer occasionally.  Thankfully he has greatly reduced his soda intake since college and neither one of us likes coffee.  It's amazing how expensive beverages can be.
3. Carpool – We live in the same place and work at the same place, but we only drive together 1-2 times per week.  Carpooling every day would save us gas and the cost of a parking permit ($270/year).  Kyle likes his freedom to keep variable working hours, though, and we have different after-work activities that we usually go to straight from work.  I think we could swing this with some effort but Kyle thinks it's worth the money to remain flexible.
And finally, a couple tips that intrigue me but that I haven't tried.
Possibly not worth it
1. Dumpster diving – It's not the food that keeps me from trying this but the legality issue, and the effort to become part of a community that knows what it's doing.
2. Couponing – Maybe I'm mistaken, but I think we mostly buy things that don't have coupons, like vegetables.  And we get nearly all our non-perishables from Costco.
Are there any tips in my "too far" list that you use and enjoy?  What tips would never work for your family?
photo from coneslayer
Filed under: frugality · Tags: cheap, extreme, frugal, good tips