Kyle and I just filed our taxes!  Phew, got in right under the deadline.  I drafted them a couple months ago using TurboTax and I think I did nearly everything right because Kyle only had to make one edit when he checked through it.  We owe $67 in federal taxes and are getting $278 back from NC, so I think we played that pretty much exactly right.  I am really happy that the standard deduction exists.  Our only eligible deductions are our charitable contributions, which are nowhere near $11,600 per year.
After all the media coverage of the presidential candidates' effective tax rates and giving rates, I thought I would check up on our official 2011 rates (not just what shows up in our budget).
I was surprised to find that our federal effective tax rate is 8.03% and our state effective tax rate is 4.63%!  Wow – that's really low!  Don't be jealous though – think about how much we earn to qualify for those rates.  We also paid a 0% tax rate on our capital gains/qualified dividends, which I didn't know was possible.  This was the first year we had any income of that sort so it was a new area for us to figure out.
Our taxes, giving, and retirement saving add up to just under 40% of our income, which means we lived on 60%.  (Actually, we spend a little more, since we receive some gift money as well.)  That sounds pretty good, right – to live on 60% of what you make?  I suppose in the future we'll live on an even smaller fraction as our tax rates increase and we continue to save and give a minimum percentage.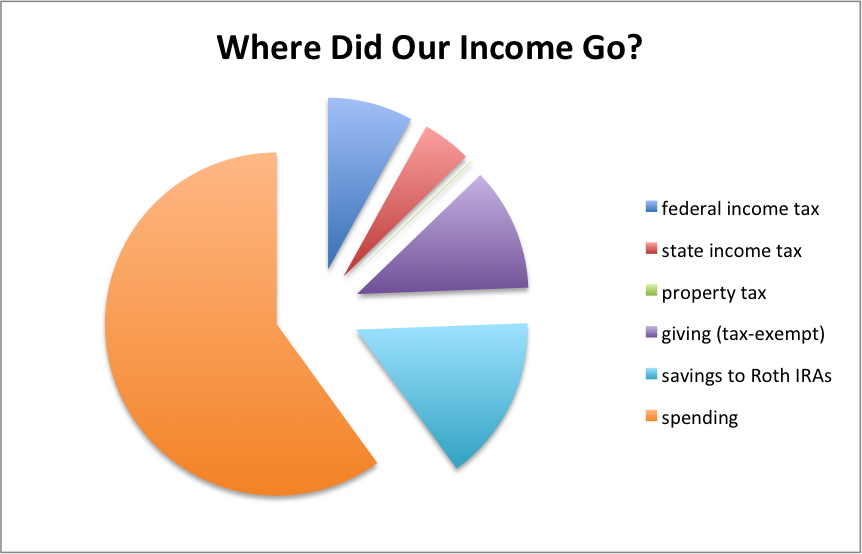 Did you calculate your effective tax rate this year?  Were you pleased or disappointed with the result?  What overall portion of your income did you spend (aside from taxes, giving, long-term saving, and debt payment)?  Did you find out anything else from your taxes that surprised you?
Filed under: taxes · Tags: effective tax rate, giving rate, savings rate, spending rate