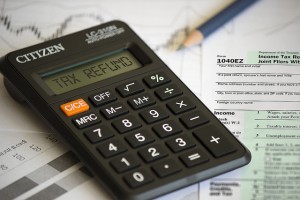 While most people might love to receive a fat tax refund following tax season each year, it seems that personal finance nerds converge more on either owing tax on April 15 or getting very close to getting zero refund. Kyle and I seem to have split the difference for our 2014 taxes, gaining the pluses from each side of that argument while avoiding the minuses.
For the last few years before 2014, we managed to match our withholdings pretty closely to our actual tax owed. We generally had to pay a bit in federal tax (<$100) and got a small state tax refund (~$200) at the end of each year. How to accurately fill out a W-4 is still a bit of a mystery to me, but we managed to get our withholding so close to our actual liability by having slightly too much withheld from Kyle's paycheck and slightly too little withheld from mine.
2014 was a big transition year for us with Kyle going from being a grad student to a postdoc and me going from being a grad student to a funemployed person (with some self-employment income), and we prepared as best we could tax-wise. Kyle didn't change anything about his W-4 so we knew we were well-covered in terms of the withholding needed from his paycheck.
In terms of my self-employment income from the fall, we took a very simple approach. I often see self-employed people throw around seemingly random numbers like 25% as how much they set aside from their income for taxes. What we did, because we still had Kyle's base of an income in place from which his withholding was taken care of, was assume that we would pay our marginal income tax brackets on my self-employment income plus self-employment tax. I understand that approach won't work for people whose sole income is from self-employment because of our marginal tax bracket system, but it did for us as my income didn't change which marginal tax bracket our income fell in.
The numbers work out like this: For every bit of self-employment income we took in, we set aside 15% for federal tax, 5.8% for state tax, and 15.3% for self-employment tax for a total of 36.1%. (This is one component of our percentage-based budgeting approach to all of our income. In addition to setting aside enough for taxes, we also give 10% of our gross income and save 15% into our Roth IRAs.) This money went into our designated Taxes savings account – one of the few that survived The Great Accounts Consolidation of last fall.
In January 2015, we checked whether we would need to file estimated tax for Q4 of 2014. We calculated that we would owe less than $1,000 in additional tax on April 15, so we did not need to file estimated tax for that quarter. When all was said and done, on April 15 we ended up paying $628 in additional federal tax and $114 in additional state tax.
So we did pretty well in terms of what personal finance nerds want out of tax season – we owed a bit, but we had prepared for it so it wasn't a shock to our cash flow. The pleasant surprise, though, was that we managed to create a self-tax refund. We had $1,020.22 in excess funds in our Taxes account after we paid our 2014 taxes (above what we've saved into it in 2015). So we created a tax refund for ourselves, but one that we got to hold onto all year long instead of it being held by the government!
As best as I can tell, the tax refund probably came from Kyle's withholding still being a bit too stringent. I think the assumptions we made about how much of my self-employment income we were paying in tax are still good. We could adjust his withholding down a bit, but I'm pretty happy with the rest of our system and how it worked out at the end of the year. This year, we are paying estimated tax up to 100% of our 2014 liability, but still saving into our Taxes savings account at the proper (marginal) tax rate. I think this system will hold up pretty well until my self-employment income bumps us up a tax bracket.
Have you ever given yourself a tax refund from your own tax savings account? How do you figure out how much to set aside for year-end or estimated tax payments?
photo by eFile989
Filed under: taxes · Tags: estimated tax, tax refund