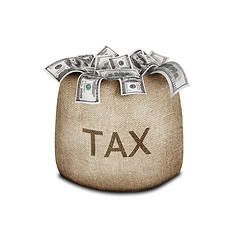 I had a really strange thought a couple weeks ago – hear me out and tell me what you think!  Have you ever considered paying yourself what you think you should be paying in taxes?
Do You Think Taxes Will Increase in the Future?
I'm not sure if there is much debate over this issue, actually.  The US national debt is 100% of GDP and we have among the lowest tax rates of our peer nations.  Something has to give!  It will come down to increasing taxes or cutting services (chiefly entitlement programs).  Personally, I think both of these are going to happen – maybe not in the next few years, but eventually, and for everyone.
As I've navigated around the PF blogosphere, I've seen nearly everyone advocate for investing in the Roth IRA for most income-earners.  Part of thinking that an individual will be in a higher marginal tax bracket in retirement comes from higher income taxes expected in the future.
I also heard an interview with Simon Johnson, the author of White House Burning, a couple weeks ago on Planet Money.  He proposes letting the Bush tax cuts expire and reducing/eliminating deductions for mortgage interest and employer-provided health insurance among others, as well as cutting spending.  He argues that we must pay more in taxes in the future – just the plain facts as he sees them, not as a political statement.
I don't know if we'll necessarily be paying more in income taxes in the future, but I am confident that we will be paying more taxes overall.
What Taxes Might You Pay That You're Getting a Break on Now?
One of the first things to go may be some deductions and credits in our tax returns, as suggested by Simon Johnson.
I wrote two weeks ago about how a fellowship recipient is exempt from payroll taxes because he does not have earned income.  While I suppose his Social Security/Medicare benefits might be reduced because he didn't pay in for those years (yeah, right!), I basically view this as a tax break.  In any normal situation, he would be paying those taxes, but, fortuitously, he's not.  That gives him the opportunity to do whatever he likes with the extra 7% like saving it while living a lifestyle that he won't have to cut when he transitions off of his fellowship.
Around tax time I also started thinking about the standard deduction.  What is its purpose?  If I can't conjure up itemized deductions, why should I get to take a standard one?  And why do we have all these tax deductions in the first place?  I understand the charitable deduction but basically none of the others!  What deductions or credits are you taking on your taxes that you think might disappear in the future?  How much money are you not paying in taxes due to them?
Why Should You Consider Paying Yourself The Should-Be Taxes?
What would happen if your taxes rose significantly next year?  If your withholdings are proper, your take-home pay each month would be reduced.  You would adapt your budget – either cut some spending or cut some savings.  What I'm suggesting is to just prepare your budget for that possibility/inevitability by living month-to-month on less and contributing the extra to savings or a purchase or experience that doesn't lead to lifestyle inflation.
1) If you adjust your lifestyle now, you won't be unpleasantly surprised when taxes do increase.  Being unprepared could even result in debt if you are unable to cut back on your lifestyle.
2) The savings that you can build up by paying yourself these would-be taxes can either boost your future standard of living when you will experience the higher taxes or help you transition to paying the higher taxes if your income doesn't inflate fast enough to make up for them.
One example of this was my recommendation to fellowship recipients that they should put toward retirement all the money they would be paying in payroll taxes if they were being paid earned income.  That way when they transition to the W2 their budget will already be accustomed to the lower income and they'll have a lot more money available in retirement than if they had been paying those payroll taxes or failing to save that income.
How Would We Implement This?
We have been taking the standard deduction each year because our charitable contributions are less than that level and we don't have a mortgage or any major medical expenses or anything like that.  So what if we could only deduct the charitable contributions and no other deductions, credits, or exemptions, but stayed in the same tax bracket?  We would owe an extra $162 per month in taxes.  Yikes, that's a lot of money for us!  That's not just lying leftover in our monthly budget.  It would take some serious lifestyle adjustments to come up with that money if our taxes increased.  Honestly, considering that we're oversaving for retirement, most of it would probably come from our retirement savings rate.  So maybe we've already implemented this strategy?
Do you agree that taxes will increase in the future?  What do you think of my idea – do you or would you ever pay yourself taxes you think you're getting a break on?  What deductions and credits do you get now that you think you might lose in the future and how much might your taxes increase?
photo from 401K
Filed under: taxes · Tags: credits, deductions, saving, taxes, White House Burning