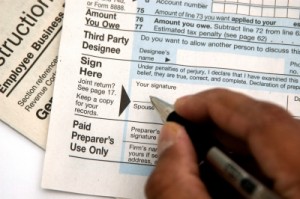 One of the lovely conversations about money I had over winter break was with my mother-in-law one morning while we were cooking breakfast.  I had probably brought up the fiscal cliff or something similar, and the conversation wound up with me blurting out "Do you know how little money we make?"  Oops!
She was surprised to learn some details about our tax situation, but it makes sense that we have different impressions of the tax code from the vantage points of very disparate marginal tax brackets.  It's probably been a number of decades since Kyle's parents' household income was down around where ours is now!
The two disagreements we had were over whether it's beneficial tax-wise to be married and why Kyle and I don't itemize our deductions.
The Marriage Penalty
My MIL repeated what I hear often – that married couples experience tax breaks over their single counterparts.  I have thought long and hard about any financial benefits we have received from getting married and knew that we paid exactly the same in taxes whether we were married or not.  In fact the marriage penalty had been in the news recently, so I wasn't sure at all why my MIL and so many others thought that there were tax benefits for being married!
I looked it up in more detail later, and it turns out that depending on the income of the two individuals there is potential for either a tax penalty or a tax bonus.  The people who get bonuses for being married are high-earners with very disparate incomes.  Median and lower earners and couples with relatively equal incomes either pay exactly the same tax as singles or are penalized.
I think this document sums up how the penalties and bonuses come about: "Marriage penalties generally arise because the standard deduction and rate brackets for joint filers are less than twice the corresponding amounts for single filers or head of household filers.  Marriage bonuses generally arise because joint filing effectively allows couples to average their incomes, which can reduce the tax rate, and therefore the tax, on the income of the higher-earning spouse." (Note that right now the standard deduction for a married couple is exactly twice that for a single person, as updated by the Taxpayer Relief Act of 2012.)
Since Kyle and I both earn a relatively low but equal income (combining for a median salary), our tax due is exactly the same as if we were not married.  But it's certainly possible that at times Kyle's parents could have experienced a bonus for being married, depending on how different their incomes were and how the tax code has changed over the years, so it's reasonable that we had different views on the tax benefits of being married.
Itemizing Deductions
My MIL was surprised to learn that Kyle and I have nearly always taken the standard deduction instead of itemizing our deductions.  She knows that we tithe so she assumed that our giving would, combined with our other eligible deductions, put us over the standard deduction level.  This was the part of our conversation where I made my uncouth statement!  I could have rephrased it as, "Do you know how high the standard deduction is?"
Kyle and I give a bit above 10% of our income, but not all of it is to eligible institutions, so I'll just assume that we could deduct only our tithe.  Our income in 2012 was around $54,000 so let's say we gave about $5,400.  The standard deduction for a married couple is a whopping $11,900!
There are several other common deductions that other people can take, but they don't apply to us right now.
mortgage interest – we don't have a mortgage
medical expenses over 7.5% of AGI – we have next to no medical expenses
non-reimbursed job-related expenses/educational expenses – we don't have to pay out of pocket for anything school/work-related
state taxes (income, property, sales) – we only pay a few thousand in state income taxes, not enough push us over
student loan interest – we aren't making any student loan payments now and plan to never pay interest on our outstanding loans
Kyle and I would have to give around 15-20% of our income to make itemizing worth it, given that our only other appreciable source of deductions is our state income tax.  I am very grateful for the standard deduction being set so high (though I have no idea why it is)!
Are you paying a marriage penalty, getting a marriage bonus, or neither?  Do you itemize your deductions? If your biggest deduction were not applicable, would you still?
photo from Free Digital Photos
Filed under: marriage, taxes · Tags: itemized deductions, marriage penalty, standard deduction