Last weekend Kyle and I went to the wedding of one of our graduate school friends in her hometown of Hamilton, ON, Canada.  This trip was not nearly as frugal as our trip to Chicago earlier in the summer because we flew, which in itself is more expensive than road-tripping plus we weren't able to bring our food with us.  In fact, we made some poor food choices because of hunger and convenience and such.
Here's the breakdown of what we spent:
Transportation
Flight: We originally budgeted about $400 apiece for flights to Toronto (about an hour from the wedding) or Hamilton but we got a great tip from another attendee to fly to Buffalo, NY instead and to drive to Hamilton (about an hour).  The flights to Buffalo were much less expensive so we ended up spending only $546.40 total.  We could have knocked about $100 off that price by using some of our Delta frequent flier miles, but we didn't think of booking through Delta (we almost always book through comparison sites) until near the end of the transaction.  We fly Delta pretty often though so we'll probably get to use the miles for Christmas or another near-term flight.
Car: We probably could have figured out a way to avoid renting a car, but I'm glad we did because we changed our plans a couple times during our trip and the car afforded us flexibility.  We booked through Hotwire because that gave us the best deal, but it was still $89.78 for the car and $29.93 for gas.
Parking: We also paid $18 for parking at our departing airport.
Hostel
We stayed in a hostel again – our second time ever!  This hostel called itself a guesthouse and it was a big old remodeled home – unlike the last one, which was more like a poorly-built hotel.  We booked a private room, which was large but sparse and the mattress was rather thin and creaky.  We shared a bathroom but because the dorm-style rooms were nearly empty there was never a line to use the it, which was awesome.  There were nice common spaces – kitchens, a library, and a media room – but we were so busy we never used them.  The hostel was $105.28 for two nights (I love being able to stay in one place two nights!) instead of $260+ for a hotel room even with the wedding block discount.  The prices were rather high for that weekend because there were conferences in town.
Food and Entertainment
We definitely paid some premiums for convenience in our food and especially parking!  I really don't enjoy eating out as much as we had to this weekend, plus I'm transitioning to the Primal lifestyle so the no-grains no-potatoes thing can be limiting on our budget. We also only ate about twice per day, which is dramatically different from my normal routine, but absolutely necessary for keeping spending in check since we weren't able to bring food with us.  We put off eating to do the activities that we wanted to.  Thankfully the wedding provided wonderful appetizers and lunch so I got a nice amount of produce (berries!) and high-quality protein (salmon!) for that day during that time.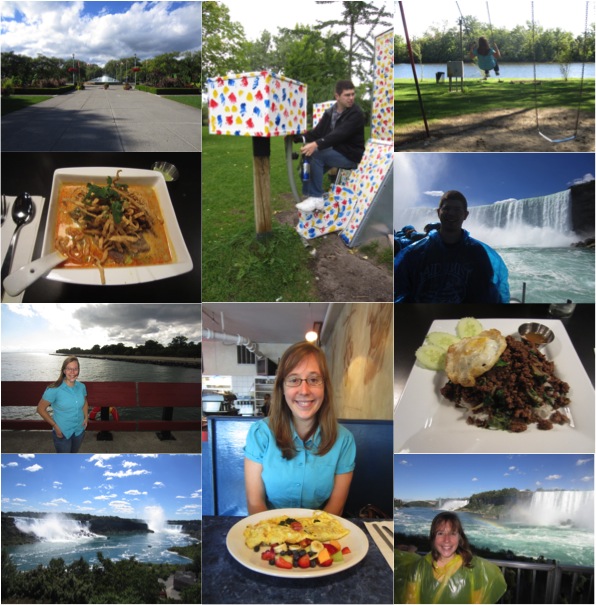 We used Yelp to help us find a couple fun restaurants, one in Toronto and one in Hamilton, and Trip Advisor to guide us as to what to do in Toronto and at Niagara Falls.  We chose such a popular restaurant in Toronto that we ended up splitting a pre-dinner meal at the place next door to take the edge off our hunger!  For our afternoon in Toronto we visited the Toronto Islands and our day in Niagara Falls we did The Maid of the Mist and The Journey Behind the Falls.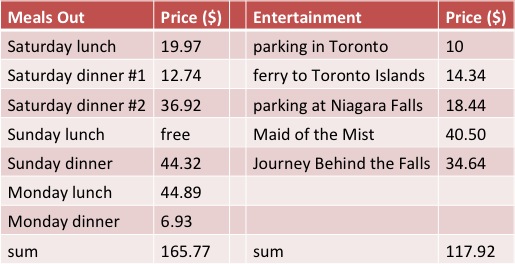 Overall I would say this was a moderately successful trip.  Of course we loved seeing our friend get married and spending time chatting with the other people at our table at the reception, and we also picked out some good outdoor activities for the rest of our time (we walked SO MUCH!).  We even got some relaxing and a long nap in after the wedding.  However, I wish we had done better on the food front, both in terms of nutrition/not disrupting our bodies so dramatically and in spending.  If we had a bit more foresight, maybe we could have bought some snacks or breakfasts to keep in our hostel.  We did have access to a kitchen so it probably would have been reasonable to buy some eggs, milk, cereal, and one or two types of produce to prepare quick breakfasts.
So that was our quick 3-day weekend!  Overall we spent $1132.38 and we had estimated $1248 – we were over in a few categories but way under on the accommodations as I mentioned.
How do you handle food on a vacation – eating out, bringing your own food, or something in between?  When you go to tourist traps, do you indulge in everything or are you selective?  How well do your trip budgets match up to reality?