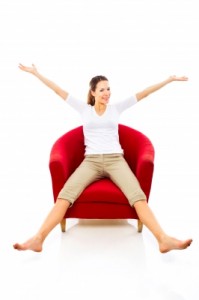 Last week I wrote about thoughtless boomerang kids, but not every young adult who lives with her parents post-college takes that not-so-grateful attitude.  It is possible for the boomerang experience to be a positive one for both children and parents, but it takes preparation, intentionality, and consistent follow-through.
(Of course, there are pockets within our society that have a social contract wherein it is expected that young adults will live with their parents until they get married and form their own household – this post is written primarily for the major part of American society for whom young adults are expected to be launched and independent once they finish their educations.)
If you and your parents agree that you are going to live with them for a time after you could have reasonably been expected to be independent from them (post-college, post-high school, whatever), I have several suggestions for how to conduct yourself so that your development and relationships are not stunted by that decision.  Much of this content was generated from reflecting on the mistakes I made when I boomeranged and the ones I see my family members and peers making.
1) Have a defined purpose and end point.
What you need to do before you even move back in with your parents, as you begin discussing moving back in with them, is to clarify why you are asking to live with them and what will define the end point of that time period.  For instance, if you are biding time until the start of a graduate program, it's easy to tell them the date you will move out and what you'll be doing in the meantime.  It's important to clarify your goal for the boomerang time period so that you have something to work toward and do not overstay your welcome.
It's not always so straightforward as to say "I will move out by X date."  But it is still beneficial to define the goal for the boomerang period.  For instance, the goal statements might be, "I will live with my parents until…"
I find a job and save a $1,000 emergency fund.
I pay off all my credit card debt and my car.
I save $20,000 for graduate school.
2) Clarify expectations all around.
As a young adult who has been living more or less on her own at college, it can be a drastic transition to return to your childhood home.  I know when I "go home" I somewhat revert to my childhood patterns and expectations even though I have been an adult for some time.  Your parents might have difficulty seeing you as a young adult working toward independence when they are accustomed to caring for you in many capacities.
When you are living on your own, you become accustomed to keeping your own schedule and housekeeping standards and so forth.  When you move back in with your parents, though, you have to recognize that you must start living by their rules again.  It is critical for your parents to articulate what they expect of you and for you to negotiate for your needs as well.  This really should be done before you start living with them again and problems crop up, which will likely happen quickly if at all.
Expectations on both sides that you should talk about could include:
Will the child sleep at the house every night and by what time will they get home?
What housework is the child responsible for – all her personal upkeep plus what fraction of the general household cleaning, shopping, cooking, etc.?
Will the child pay any fixed or variable expenses?  What about food, clothing, and other personal expenses?
Are friends permitted to come over without notice?
How much time will the child spend with the parents throughout the course of the week?
3) Treat your family members at least as well as you would roommates.
This shouldn't have to be stated, of course, but I know that my relationship with my parents was at times strained when I was living with them as I fell back into childish ways of interacting with them.  Give your parents with at least as much courtesy, respect, and friendliness as you would a stranger-roommate.  Don't presume that they will do you favors or help you out without asking.  As best you can, evolve your relationship with them from the one you had when you were a teenager to the one you want to have as an adult.
4) Pull your own weight and then some.
Going back to the expectations of your parents defined in 2 – don't just meet them, exceed them.  Do you own laundry, dishes, and cooking plus your share of the cleaning and contribute to the general household chores without being asked.  Surprise your parents to a date night in or out every so often just to show them thanks.
5) Pay for something if you have an income.
Unless your parents are particularly invested in you meeting your savings or debt reduction goal, they will probably appreciate you contributing financially to the household.  You could give them a token rent if you can, or pay your share of the utilities and food.  I definitely recommend paying entirely for everything you use exclusively (car, clothing).  Get used to having some living expenses before you have to take all of them on when you move out.
6) Be open about your progress toward your goal.
Some people naturally share a lot with their parents, but I'm not one of them.  However, updating your parents on how your goal progression is going will help keep them motivated to let you continue living with them.  If you demonstrate to them that you are making efforts to reach your move-out goal they will feel reassured that there is an end point to you living with them.  Even if your goal is a monetary one, you should share the figures of your progress with them.  After all, they are the ones enabling you to make such quick progress with your debt payoff or savings so it will probably be gratifying to them to see on paper how much they are helping you.
7) Live within your means, not your parents' means.
This applies whether or not you have a job, loosely.  Be vigorous in your pursuit of your goal, and never forget that your parents are making sacrifices to let you live with them.  Lavish dinners out, frequent vacations, and spending on lots of "wants" may be possible for you since your salary isn't being eaten up with living expenses, but that kind of spending doesn't advance your goal and won't endear your cause to your parents.  If your means don't permit you to live independently, they shouldn't permit you much beyond your necessities.
Of all these suggestions, I would say the first and second are the most crucial and the rest follow from those.  The first and second really should be addressed before the boomerang period actually starts as the arrangements are being discussed.
What expectations do you think parents and children to discuss?  How do you think boomerang children should contribute to their parents' households?  What well-defined goals have you used or heard from boomerang kids?
photo from Free Digital Photos
Filed under: choices, housing · Tags: boomerang kids, living at home