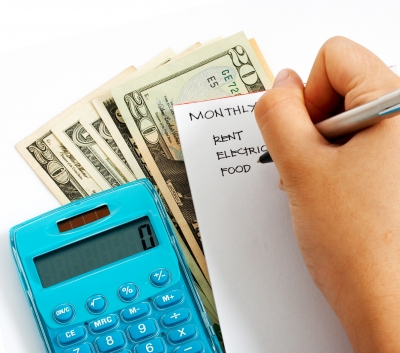 A few weeks ago, Kyle and I finally sat down together to create a new iteration of our budget.  We probably should have done it after we moved in August, reducing our rent by about $100/month, or after we got our annual cost-of-living raises in September.  We put off incorporating that extra money into our budget because we weren't sure how the fiscal cliff would be resolved and we didn't want to get accustomed to the higher take-home pay just to have it go back into tax withholdings a few months later.
December finally arrived with no defined resolution to the fiscal cliff, so we decided to make three budgets so that we wouldn't have to repeat the process again in January.  The budgets are based off our take-home pay under three resolutions of the fiscal cliff that we found plausible at that time: no change, reinstatement of full payroll taxes, and reinstatement of full payroll taxes and expiration of Bush tax cuts.  I'm so glad we took the time to do this as the negotiations seem to be going down to (or past) the wire.  Our December and January spending are off of the "no change" budget we came up with and we'll see what January's pay brings after our withholdings have been adjusted.  I've lost track of where the tax negotiations are, but if for some reason our taxes go up even more than what we've anticipated here I hope we'll have some time to regroup before they go into effect.
This budget will be in place until Kyle gets a new job/moves, which will be our first major financial transition since starting this blog.  We hope that will be in May 2013, but it could be a bit later if he doesn't get everything done that fast.  After that point our finances will probably be in a bit of disarray until we get accustomed to Kyle's living expenses in his new city and determine how much we'll spend traveling to see each other.  That's when the "keeping our sanity" part of EPF's tagline will really come into play!
All of these budget versions leave about $25 of our take-home pay unassigned for random overages and small unanticipated purchases.  For both our everyday budget and our targeted savings account rates, the categories that are fixed no matter what our take-home pay is come first (with dashes for the repeats) and the what we've varied across the three budgets comes second.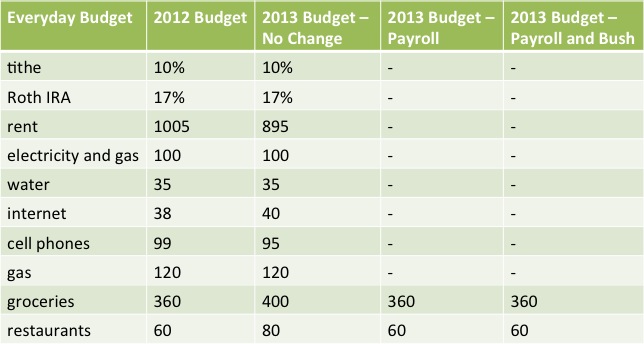 We've been feeling tight with our grocery and eating out budget ceilings so if we have the same take-home pay we'll increase how much we spend there – otherwise it will stay the same.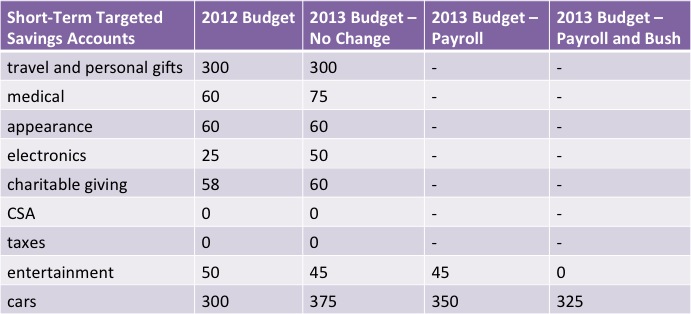 We need to be saving a lot into our "Cars" account for the upcoming repairs to my car, but we don't know quite how aggressive to be there so that's why we've modulated that amount.  We also have a large balance in our Entertainment account currently and we probably won't buy tickets to our local theater next year, so we don't really need to save a lot there if it's tight.  But I also don't want to decimate our Entertainment savings if we want to use it toward NCAA tournament tickets to see our university's basketball team (fingers crossed!).
For the first time, we've also formalized where we want extra money to go.  Starting in January, our budget leftovers will all go into our Cars savings account and the discretionary part of Kyle's side hustle paycheck will go to Travel and Personal Gifts.
Phew!  I'm glad to have this process done.  Even though Kyle and I agree on 98% of what we want to do with our money, discussing and negotiating that last 2% is energy-consuming.
How are you preparing your budget for the uncertainty of the fiscal cliff?  What changes did you make to your budget for 2013?  How long does it take you to update your budget?  Where in your budget would you put money if some was freed up?
photo from Free Digital Photos
Filed under: budgeting, personal · Tags: fiscal cliff, new budget