January was a fun month for us!  We went skiing with some friends, got a lot accomplished at work, started watching basketball socially again, went out for Restaurant Week, had a picnic, and had the excitement of two snowfalls.  We went over our grocery budget again (again, again… what kind of budgeter am I?) and you'll have scroll down to see our bottom line.
The Everyday Budget
Our non-discretionary categories aren't changing at all now – INCOME, SAVINGS, GIVING, rent, and internet – which you can find in our last budget iteration.  The exception is that Kyle works at our church occasionally, and he received one paycheck in January, from which we transferred an extra $34 to our Roth IRAs and made an additional donation to our church.
We are still dealing with some cell phone bill weirdness.  I paid my bill on my new smartphone as usual and finally cancelled the service on my last one, so my cost for this month was $22.18.  Kyle returned his ATT smartphone and then bought one from Verizon.  We're still waiting for all the fees to shake out, but the difference between the return and the purchase as of now is $67.09 (out).  However, we didn't pay a normal bill for his phone this month because of how the cycles fell, which should be around $64.  I'll post about this in more detail when we get the ATT account completely closed.
In terms of our discretionary spending: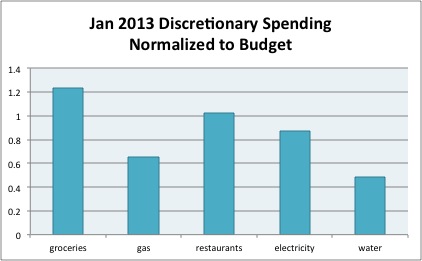 Groceries: Over again by almost $100.  I'm disappointed in myself.  Read more about that in our next grocery update.
Gas:  Only two fill-ups this month that weren't for our ski daytrip.
Restaurants: We spent exactly our entire budget on one meal for Restaurant Week.  In addition, Kyle bought a mini-cheesecake from our friend's new business for $2 when we visited her at a bar one night.  We had to turn down a few other invitations because we had already met our budget.
Electricity and Gas: Amazingly under budget!
Water: Under budget as well!
Every month we also have some random other transactions that aren't covered in the budget but aren't supposed to be taken out of a targeted savings account:
We broke a switch in our apartment, so Kyle bought a replacement for $5.88 and installed it.  He also broke a light cover but we haven't replaced that yet.
We spent $9 on (super-ugly forever) stamps.
Spending Out of Targeted Savings
Aside from, our ski trip, this was a very quiet month for our targeted savings accounts.  We spent $421.34 from these accounts this month and added $252.32 above our normal savings rates.
Travel and Personal Gifts
We took $54.41 from this account to pay for gas for our ski daytrip and added in the discretionary part of Kyle's paycheck, $100.18.
Cars
no spending this month
Entertainment
We used $205.72 to pay for the equipment rental and lift tickets for our ski daytrip.
Appearance
We spent $41.81 on pants and sunglasses for our ski daytrip.
Medical
no spending this month
Electronics
We transferred $50 from this account to our Nest Egg to repay that account for our up-front cell phone costs.
Charitable Giving
no spending this month
Nest Egg
We received a Christmas gift of $100 that went straight into this account.  As we haven't yet set up a separate account for blogging expenses, we removed our year's hosting fees from this account, $119.40.  We also transferred $50 from our Electronics here.
Taxes
We transferred $52.14 into this account to set aside for taxes on Kyle's extra paycheck from this month.
Budget Adjustments
This month we discovered that we don't pay payroll taxes, so we didn't experience the decrease in take-home pay that we had anticipated.  In fact, our take-home pay, for whatever reason, increased $8.12!
Bottom line: We squeeeeeeaked by under budget this month by $0.61!  I thought we were over budget right up until yesterday but I wasn't sure why (aside from the grocery overspending.)  Then as I prepared this post I checked through our ski trip calculations and realized that I hadn't reimbursed our checking account from our savings accounts quite as much as I should have.  Sometimes there are perks to this accountability!  I'm glad to be back in the black this month after last month's (non-Christmas-related) debacle.
When you receive cash gifts, do they go into your checking account for whatever or do you earmark it?  How did your budget fare with the increase in the payroll tax?  Do you ever spend an entire budget category in one go?
Filed under: month in review · Tags: busted budget, skiing, snow