This is our December review for our attempt to take control of our grocery spending through seven goals and a new grocery budget cap.
In December we spent $502.54 on groceries, about 25% above our budget of $400.  I don't feel terrible about this overage because there were a few unusual circumstances, and I think we're on track to meet our budget next month.  We did pretty well accomplishing our goals aside from the time we were traveling.
Here are my reasons (excuses) for the budget overage:
there were five Saturdays/weekends in December instead of four – we only spent $100/week, which is more in line with our budget
we were away from home for 12 days so we did have some food go bad while we were gone and had to restock when we returned
even though we ate out a lot while we traveled, we had to buy some groceries for lunches and we had to leave the remainder there
1) Continuously keep a shopping list.
I wouldn't say that we continuously kept a list, but we started making one for each shopping day at least a couple days in advance.  We don't have a good system as of now as we're just keeping it on my laptop and I have to write it out before going shopping.  Now that I have a smartphone we'll probably keep some sort of synched list between our two phones.
2) Track every single item we purchase and look at the aggregated data.
Yes, accomplished!  Unfortunately I'm not sure what to do with the data.  Some points stood out to me but without baseline data or comparison with others I don't know if they are actually odd.
1 – The $500 we spent was over 13 transactions on five shopping days.  I aggregated the purchases into four categories – fresh, canned, processed/packaged, and non-food.  Fresh food was our biggest expenditure but I was surprised to see that processed/packaged was close behind.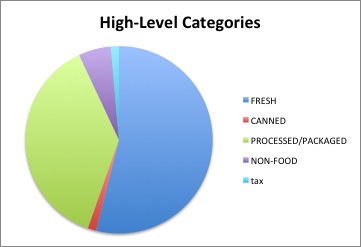 2 – I took a closer look at our FRESH category.  We spent slightly more on meat than vegetables, but I expected there to be more of a difference.  We do eat a lot of vegetables and I suppose we buy the cheapest cuts of meat possible.  I'd like to spend more on meat but Kyle is opposed.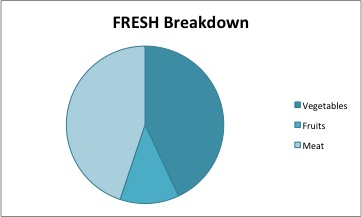 3 – Our processed/packaged category isn't as bad as I had expected (in terms of spending a lot on grains).  I think it's revealing that we spent so much on dairy – it's sort of a marginal category in my theoretical diet yet I obviously consume a lot of it.  About 20% of the money we spent on grains/starches was on sweet potatoes and another 25% on grains largely for Kyle's family so that's about as good as it can get in that category.  The only "barely-food" we bought this month was brownie mix and soda for parties.  We spent way more than I expected on condiments and spices, but I think it was an unusually high month as we had to buy new oil and seasonings in bulk as well as some sauces for a new recipe.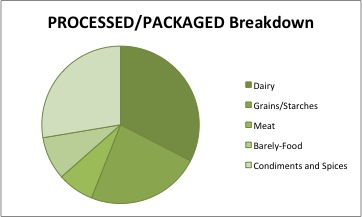 3)  Shop on a consistent day of the week.
We accomplished this goal this month if you excuse our traveling – we only shopped on Saturdays for the first three weeks in December.  There was one Wednesday when I strenuously argued with Kyle to go to the store mid-week but he stayed strong and said we would tough it out until Saturday.  I actually think that forcing ourselves to eat down our fridge and pantry and get to the stuff we don't like as much reduces waste and is limiting our spending.  We shopped on a Thursday when we were in California and on the day after we returned to Durham (a Monday) so that still averages to once per week.
4)  Check the weekly specials (and compare with my pricebook) to buy on sale.
I only remembered to do this twice!  But on those weeks checking the sales did change where I bought some of the items on our list so it saved us a bit of money.
5) Add in some meal planning.
My goal was to cook four batch recipes but I only did three (although one of them was a double so it lasted a looooong time) and I only used the crock pot for two.  The recipes were actually all new to us, Paleo chili, chicken curry (plus sweet potato), and one from the Smarter Science of Slim.  None was totally amazing so I would definitely tweak the recipes if I made them again.
6) Visit low-cost stores first.
We accomplished this goal.  On each shopping trip we went to Costco followed by Kroger and then the more expensive stores.  On one Saturday we went to the farmer's market before Costco – I wish I had gone at least one more week.
7)  Evaluate additional sources for groceries.
I went to Trader Joe's on the third Saturday.  I didn't plan to buy anything, just record some prices and see what selection they had to evaluate if it's worth adding to our shopping regimen.  I wasn't there for terribly long but I did two passes through the baking section and was disappointed that I couldn't find any non-wheat flours or coconut oil.  Unfortunately the selection and prices didn't seem compelling enough to drive to the next city for.
All in all I think this was a good start.  I would have liked to meet our spending cap in our first month of taking control back, but given our traveling that wasn't really under our control.  I have confidence that in January we can meet our spending cap by implementing these strategies.
What do you do when you refocus to lower your grocery spending?  How much did December's traveling and parties throw off your food budget?
Filed under: food · Tags: cap, goals, grocery spending, traveling