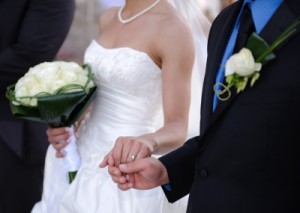 I have a little "just curious" post today on paying for weddings!
Kyle and I dated for a long time without many future intentions but implemented our decision to get married relatively quickly (it about nine months from the decision to move toward engagement to the wedding day).  Therefore there really wasn't much time to consider how the wedding would go down before we were thrust into actually planning it – I can't even remember what my expectations were about who would pay for the wedding.
I had some savings (a gift a year earlier from my parents) and Kyle had some savings, but not enough to throw bicoastal receptions as we wanted.  Both of our sets of parents make a nice living so I guess we hoped that they would contribute as well, and ultimately they did.  I would estimate (though I don't know for sure!) that each of the three parties contributes approximately the same amount of money toward the wedding(s) by the time everything was said and done.  That wasn't how we planned it – let's be honest, there wasn't much budget planning! – but that's how it worked out more or less.
As I've built up more pride in my financial independence, I've started thinking that maybe it would have been better/more adult-like if Kyle and I had paid for the wedding entirely.  It really wasn't feasible for us to pay entirely for the events we put on – even the savings we had was because of the generosity of our parents – as we have such a low income.  But certainly getting married itself isn't expensive and we could have thrown a small wedding and skipped the honeymoon.  But as it played out our wedding was really a big family event and our parents invited their friends so I think they got a lot of value out of it as well.
What parties contributed (or will contribute) to paying for your wedding?  Do you plan to contribute to your children's weddings?  Should stakeholders in a wedding get something tangible out of it?
photo from Free Digital Photos
Filed under: marriage · Tags: independence, parents, weddings