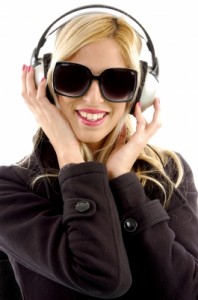 For Christmas this year Kyle received an Amazon (affiliate link – thanks for using!) Kindle gift card (and the giver checked that we do in fact own a Kindle).  Receiving that gift card, as well as considering some others, made me realize that we really don't buy media any more.  I can remember only twice in the last five years or so that we've bought a song, book, or movie that wasn't a gift.
It's not just that I've become really cheap or that I've shunned entertainment but rather that my concept of ownership has changed, as I'm sure it has for a lot of us in the post-digital revolution and internet age.  I used to want to own books and music so that I could have access to them at any moment I would like.  Now with subscription services and the internet I can pay a relatively small price to have access to a lot of media nearly whenever I like or nothing at all for a bit less convenience.  I never buy music, movies, or TV shows and I only buy books now if I want to have them for multiple future references or lending (which is rare).  I've literally never bought anything from iTunes and the only time I remember Kyle buying any was the few songs we didn't yet have for our wedding reception playlist.  Kyle has stopped buying video games and now only plays free computer games.
While we don't buy digital copies of media, we do have a subscription service (Netflix, a gift) and we get media for free from the library and over the internet.  We also pay to attend live events, but I'm not sure if those should be considered "experiences" or "leased entertainment."  We prefer to spend on those live events than on owning our entertainment.

Of course digital media isn't free even if you give it from a free source, because you need the computer/console/player/TV to interact with it, so there is still an up-front investment to partake in those kinds of entertainment.  We bought a lot of those devices back when we had more subscription services, but I'm not sure that I really need more than my computer and smartphone at this point.
What entertainment do you pay for and what do you get for free?  What is your opinion of ownership of digital files?  What subscription services do you use?  Do you have any odd or off-the-beaten-path ways of getting media entertainment?
photo from Free Digital Photos
Filed under: frugality, spending · Tags: books, free, library, movies, music, TV