This month Kyle really got engaged with working on the back end of the blog!  We added some new advertisements and I bought How I Make Money Blogging so we can try to implement some of those strategies.
This month EPF was added to the Wisebread Top 1000.  I applied to get on it quite a while ago and am looking forward to improving our rank.  EPF was also featured as the site of the month by Narrow Bridge Finance – thanks, Eric!
This is our analytics data from December 16, 2012 to January 15, 2013.  Our traffic was a bit down because of the long winter break, but not as much as I expected so I think things are looking up for next month!
People who listen to us, as of January 15, 2013:
RSS subscribers: 125 (+12)
Twitter followers: 205 (+29)
Facebook fans: 26 (+1)
Rankings:
Alexa: 174,893 (-10.037)
Google PR: 2 (no change)
MozRank: 4.98 (+0.02)
Some Google Analytics statistics: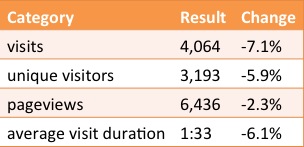 Popular Posts
Most viewed posts:
1) Average Clothes Spending and Pattern
2) What Do You Consider a Good Salary?
3) Earned Income: The Bane of the Graduate Student's Roth IRA
4) How to Move Out on a Shoestring Budget
5) The Slippery Slope of Separate Money
Most Commented Posts:
Do You Buy, Lease, or Get Free Entertainment?
Holiday Conversations around Money
Grocery Challenge Update December 2012
Egg on My Face: Grad Students and Payroll Taxes
Financial Wrongs from the Past
December 2012 Month in Review: Money
Crazy search terms this month (from real people):
"$350k income" – how did this search term find our blog??
"how to make badge for grocery and other spending" – a badge? what?
"how much should i spend on groceries a month for two people 2012 canada prairies" – we live in the US. in the suburbs. so I dunno.
"$80,000 a year good pay for a single guy" – yes!
"all day personal finance blogs" – that's what I want to do all day sometimes!
"personal finance site by robin" – you came to the wrong blog, sorry!
"is it cheaper to live separately" – definitely not. also probably worse for your marriage.
"husband's side hustle marriage" – I hope that's not what it sounds like…
"average amount of t shirts in a student's wardrobe" – a LOT, if you judge by our closet!
Did you see a traffic drop over Christmas and did your favorite blogs take time off?  What advertising strategies do you use on your blog?
Filed under: blogging, month in review · Tags: Christmas slump, featured blog, WiseBread