EPF is now a Google Page Rank 3!!!  We were a 2 for what felt like forever.  This month we also saw a big increase in traffic and we are finally dipping our toes into guest posting and advertisements.  Kyle told me we have made $10 all-time so far and when I responded with a dismissive tone he said, "Are you not happy with that??"  I think we are going to pursue mainly affiliate links.
Award and Interview
The blog of the Future Advisor website named us an "Unbiased Blog" for 2012 and featured an interview they conducted with us!  The interview questions were really good so I hope you enjoy our responses.
Guest Posts
On EPF: Thanks to Kylie Ofiu for volunteering a guest post to help me manage my time better in advance of my preliminary exam!  She wrote about how to make decisions concerning replacing large household items when you can't really afford it.
EPF Elsewhere: Kraig from Young Cheap Living wrote a wonderful post a few months ago on living on $25k, which inspired me to write a guest post for him on my story of earning only $24k when I was living in the DC area post-college.
This is our analytics data from January 16 to February 15, 2013.
People who listen to us, as of February 15, 2013:
RSS subscribers: 142 (+17)
Twitter followers: 271 (+66)
Facebook fans: 30 (+4)
Rankings:
Alexa: 174,893 142,903 (-31,990)
Google PR: 3 (+1 woohoo!)
MozRank: 5.00 (+0.02)
Some Google Analytics statistics: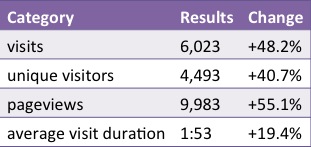 Wow – increases of 40-50% in visits and pageviews!?  I'm so surprised!  I guess the January statistics were a little deflated, but still, that's big by EPF standards.
Popular Posts
Most viewed posts:
1) Frugal Practices I've Grown to Love
2) Average Clothes Spending and Pattern
3) Personal Finance Bloggers I Admire
4) Earned Income: The Bane of the Graduate Student's Roth IRA
5) What Do You Consider a Good Salary?
It's quite unusual that a post from the current month ends up on this list – usually it's fairly static.  Thanks to the links from Clarissa's Blog and Nicole and Maggie for boosting Frugal Practices to #1.
Most Commented Posts:
Why We Don't Do No-Spend Challenges
The Marriage Penalty and Itemizing Taxes
Should You Count Your Employer's Contribution into Your Retirement Savings Percentage?
Irregular Income: Gravy Edition
Our comments have been way up this month, too – the top several in the 40s. 🙂
Search Terms (from real people)
Crazy search terms this month:
should i move out of my parents house at 41
i'm a student and have no income should i start a roth ira
tax girl
my husband moved all our money to a separate account
Search terms that made me feel like I'm doing some good here:
college students don't have to pay payroll taxes
personal finance blog grad student
do i get a w2 if i'm a grad student
frugal, cheapest way to have a cell phone
retirement investing as a student
graduate student 1099 misc taxes
can i invest in an ira if i am fellowship
why is the definition of the word earned and the definition of earned income different
taxes 1099 misc line 3 student internship grant
is a fellowship earned income
graduate student 2012 taxes
can someone get a car loan from another state
Did you see a bump in traffic this month?  Do you enjoy guest posting and how often do you do it?  Are you seeing a lot of tax-related search terms?
Filed under: blogging, month in review · Tags: guest posts, traffic spike