Kyle has been working at an extra position around 10 hours per month for a few months now, so we have had some time to adjust to having this additional income stream.  He wasn't looking for more income, but rather volunteered for a position (that we later found out was paid) so that he could learn a new skill.  While I still stand by the method of handling irregular income I outlined earlier, that strategy is for people who depend on their irregular income for their normal living expenses (for instance if that is their primary income).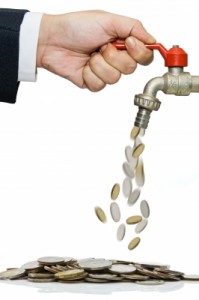 We have chosen not to count on Kyle's side income as 1) we don't want to inflate our lifestyle and 2) Kyle should feel free to stop working extra if he gets overwhelmed with school/job searching.  Since our budget is completely based on our income from our full-time jobs, this other income is all gravy.
But we don't want to just blow the extra income on eating out or entertainment on a month-to-month basis as we recognize that at the end of the year it will add up to something substantial.  Since several components of our budget operate off percentages of our total income (taxes, retirement savings, giving), we decided to take into account those priorities with each extra check we get.
But after those obligations are taken care of, we have approximately half the income to do whatever we want with – that's the true gravy part of the gravy.  If we had debt, we would probably throw all of it toward debt repayment – if we had a mid-term savings goal, we would use it there – but we don't.
Since Kyle is the one earning the extra paychecks, we agreed he should be the one to decide how to use this portion of the income (of course toward shared spending).  He chose for the gravy gravy to go into our Travel account at the present.  I think this is a great solution because we don't miss the money in our regular budget and it is guaranteed to go toward an awesome purpose.
Do you have irregular income?  If so, is it something you budget into your monthly expenses, does it go directly into savings, or do you treat yourself with it? 
photo from Free Digital Photos
Filed under: income, targeted savings · Tags: gravy income