For the last couple years around the personal finance blogosphere, I've been emphasizing the difference between lifestyle inflation and deliberate lifestyle increase. Lifestyle inflation has a terrible reputation in our community – deservedly so – but as a person who wants to life a higher lifestyle than she has in the past (unlike some others!), I felt it important that not all increased spending is painted with the same brush.
Lifestyle inflation is the mindless process by which your lifestyle rises as your income rises.
A lifestyle increase is when you deliberately choose to spend additional money on certain aspects of your lifestyle after your income increases because you truly value those aspects.
I've had combatting lifestyle inflation on my mind since the very start of this blog, and with Kyle's new job and higher income it's finally time to put our money where our mouth is (literally). I know that we will be spending more money in this new post-grad phase of life than we did when we were both in grad school or living on a single postdoc salary. There are three reasons/ways this can happen:
1) Cost-of-living increase. Seattle is more expensive than Durham. We are paying 50% more rent for 30% less space. Our water/sewer/garbage bill has quadrupled (going from usage-based to flat rate!). And those are just the bills I know about already – I'm sure many more examples will pop up over the next couple months. Point being: we are naturally going to be spending more in our new city, even if we don't increase our lifestyle at all. But hey – we're doing it because (other people think) it's awesome.
2) Lifestyle increase. We kept our spending very tight and controlled for many years while we were in grad school, making sacrifices in a lot of areas, even those that were closely related to our values. We can afford to spend a bit more liberally now, while still meeting our percentage-based budgeting goals. For example, I'm looking forward to:
3) Lifestyle inflation. This is what we really want to avoid, but…
We still haven't yet lived in our new apartment for a month yet, so it's not clear how our expenses are going to shake out once they become regular, and even after that we'll have to judge what is simply a cost-of-living increase (e.g., within our grocery or eating out budget categories). But I'm already seeing hints of lifestyle inflation (or is it increase?)…
We have spent hundreds of dollars on new furnishings so far this month! I didn't even realize how much it added up to (glaring red flag for lifestyle inflation) until I looked at Mint today – it's over $500! I really detest shopping, so Kyle has been making most of the final purchases (after discussing them with me), which probably also contributes to my shock. However, we definitely can afford to spend that kind of money on furniture one time; this is not overspending, but it definitely could be lifestyle inflation.
Now, to be fair, definitely not all of that $500 is lifestyle inflation. We sold $345 worth of furniture when we left Durham, so we already had a bit of a fund going for new-to-us stuff upon arriving here. We bought two fans (and plan to buy a third) because our apartment does not have A/C, so that actually is a net zero/lifestyle decrease. We also bought three lamps (two new, one secondhand) because of a lack of overheard lighting in the living room – again, a net zero. We had a frugal win of finding a great couch on the street literally in front of our apartment building.
The questionable purchases – questionable whether they are lifestyle increase or inflation – were from Ikea. We bought a coffee table and a standing desk (for me). We bought our last coffee table new as well, but it was piece of junk from Target, so this new Ikea table is a major upgrade both in quality and price. The standing desk isn't a proper standing desk yet, just a high tabletop. We plan to finish the Ikea hack soon by adding a second level for my monitor. But this was definitely not a 'need' as we brought our two desks from Durham with us (also cheap, from Staples, 7+ years old) – part of the second one has now been repurposed as a kitchen table/additional counter space.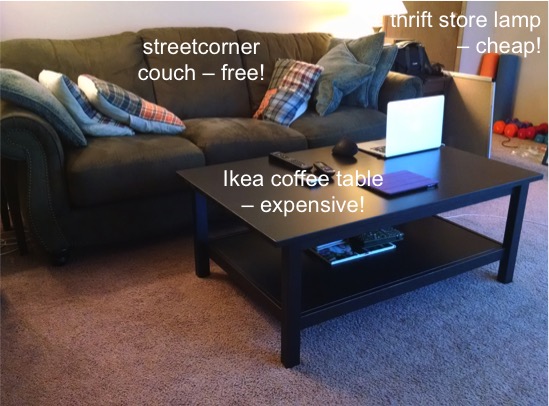 Side story: We were talking with some of our neighbors (middle-aged, independently wealthy) about how we were struggling with this decision about how much to upgrade our furniture. The wife said, "Oh yes, time to get rid of the old Ikea stuff." And we were like, "No, no – Ikea is the upgrade – over used stuff from craigslist!" So yeah, I realize most people would not be struggling with the concept of lifestyle inflation over their Ikea furniture!
We had shopped around a bit for these furniture pieces, including going to several thrift stores, but didn't see anything that appealed to us in the secondhand market. And I have to say, I'm really enjoying both pieces. The coffee table is large, which is great for our huge living room, and sturdy – unlike our last one. The standing desk/table is simple, adjustable, and exactly what I need. (BTW, you can see the standing desk in the background of my first video ever, which I created for Grad Student Finances! Grad students, let me know what you think/leave your comments over on GSF.)
I think that the table and desk might represent lifestyle inflation for me but a lifestyle increase for Kyle. Thankfully, we are not going to be buying furniture every month of our life, so this isn't a long-term threat. What I really need to be watchful for is inflation in our regular monthly spending. I think we need to return to budgeting properly – after about a year off! – to make sure things don't get out of control. I know we are going to experience a cost-of-living increase and a deliberate increase with respect to our food spending, so I'll need to make sure no inflation sneaks in there as well – that's the category I'll be keeping the closest eye on.
Have you had any lifestyle increase or lifestyle inflation recently? How have you kept spending in check right after a move? How do you view Ikea?
Filed under: lifestyle creep · Tags: furniture, Ikea