With Kyle's and my new phase of life comes a new phase of our budgeting methods. We are trying to live on Kyle's income alone for all our expenses and save my income.
"Living on one income" (for two people) has always sounded nice to me but also a bit vague and arbitrary. Which income would you choose to budget around? What if the incomes are highly skewed? How do you account for taxes and saving for both incomes?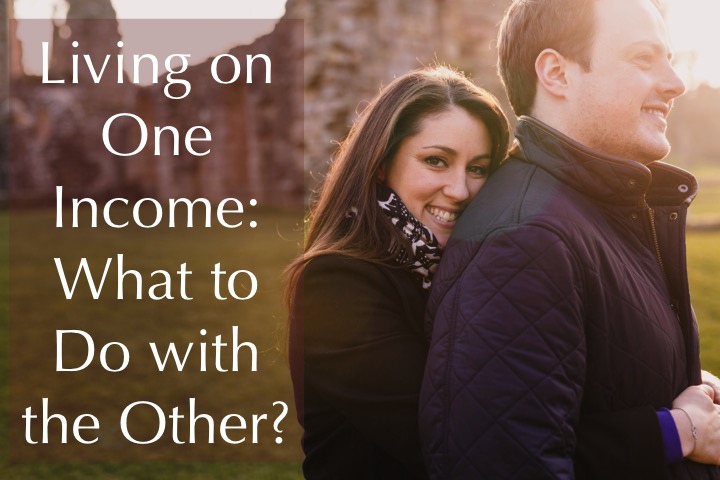 In our case, living on one income is not some great savings achievement but a pragmatic choice. Kyle is salaried; I have a low and irregular income. For stability and confidence, we should live on only his income, just in case I don't get paid in a given month or quarter. (In fact, I have decided not to pay myself from my business until the end of the year.)
With our current budget, we can almost make it with Kyle's income alone. Our irregular and/or miscellaneous expenses might be a bit high – it's difficult to tell in advance. So I am building my irregular contractor income into our budget (a different amount every month) to give us a bit more room for error. I think that we won't need much of it, and by default any excess will land in our short-term savings.
As for the business income, though, we are not going to spend it this year or probably for quite a while. We decided to, once I pay myself, apply our typical percentage-based filters: taxes (30.3%), giving (10%), and retirement savings (18%). We would like to save the remaining 41.7%.
With new jobs and new budgets come a new savings goal: a down payment on a home. We are probably still several years away from buying a home, but 5-20% of a piece of California real estate is no joke. So far our house down payment savings account consists only of gifts we received from our parents, and we'd like to start putting our own sweat into it.
So now we have two savings goals that go beyond the short term: retirement and a down payment. We have no idea how to decide what the split should be between the two, so we are just setting it to 50:50 (or 20.35% each) of the net business income. (Well, we would know if either of those goals had dollar figures associated with them, but at this point they don't.) I also suspect that we'll receive a decently sized tax refund between the IRS and emptying our Taxes savings account at year end (in the past we've withheld or mad quarterly estimated payments for within about $100 of what we owe), so we will split that 50:50 as well.
I like the idea of finally having a mid-term goal to save for! It's been only retirement and irregular expenses/planned purchases for so long! Now to figure out how to invest it…
Do you live on one income, and if so what do you do with the other income? If you have an amount of money you can put toward your goals, how do you decide how to split it?
photo by John Hope and used under CC by 2.0