When I finally sat down and did the math before my senior year of college, I realized that I had been wasting money on my meal plan nearly every week for three years.  I don't mean that the meals were overpriced for their quality, though they probably were, but that the meal plans were set up to take advantage of the limited options available to the students.
I discovered that the meal plan price was calculated by multiplying the cash price available to students at the dining hall door by seven dinners, up to seven lunches/brunches depending on the total number of meals on the plan, and then breakfasts for the remaining number, adding in the number of flexible dollars available each week, and then multiplying by the number of weeks in the semester.
For example, the price of the 12 meal plan (from my memory 6 years ago – may not be totally accurate) was: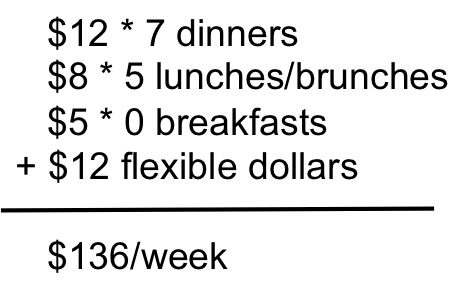 That means that each time a student failed to use all of her flexible dollars before they expired at the end of the week, which happened frequently, or ever used a meal for a lunch instead of a dinner or a breakfast instead of a lunch, money was wasted off of the cash price she could have paid to buy individual meals instead of being on the plan.  Not only were the meal plan prices the same as the cash student rate (surprising in itself) but the meal plan assumed the student was always eating the most expensive meals!
When I saw the math that bore out those conclusions, I decided to go off the meal plan for my senior year, which was an option for me because I lived in a suite with a kitchen.  I simply loaded my ID card up with flexible dollars to use whenever I wanted to go to the dining hall and was confident that I wasn't wasting money by choosing the wrong meals or being forced to by junk food at the campus store on Saturday night just because I had dollars expiring.
The point of my story is that a little basic math can go a long way toward helping you choose a meal plan (or not) that is most cost-effective for your needs.
1)  Know your options.
If you live on-campus, you may be required to buy some kind of meal plan; if you live off-campus, you may or may not be able to buy a meal plan.  You need to also factor in if you have access to a kitchen or any kind of food storage or preparation equipment in your room, suite, or dorm and what meal plan options that opens up for you.
2)  Understand your needs.
If you can't even fix cereal for yourself and don't care to change, you're going to be dependent on your meal plan.  Do you need to have a full meal three times per day, two times per day, or less?  What food can you store and prepare in your room?  Are you going to miss out on seeing your friends if you don't eat in the dining hall?  Will you need meals throughout the week or only on weekdays?  Do you need all-you-can-eat options for your high metabolism or would you be better off paying for food a-la-carte?
3)  Compare apples to apples.
Most meals plans are a combination of dining hall meals (often all-you-can-eat) and flexible dollars to be spent at on-campus or local eateries.   You must start by converting meals to dollars – not what you value them at, but what you can pay in cash to buy them individually.  This way, you can compare across plans to determine what plan best meets your needs and the lowest price and also compare the plan with buying groceries or pre-prepared foods from competing sources.
It probably hasn't sounded like it from this post, but I actually really liked our college's dining hall.  I thought the food was good and they had lots of options.  It was a great time to socialize with my friends and take a break from homework, which is why I continued eating there after I had access to a kitchen.  And you can't beat someone else cooking for and cleaning up after you!  I can't believe how much my parents were paying to feed me, though.  The current price of the 12 meal plan at my college is $730/month.  Together, Kyle and I spend $420/month currently, including eating out!  I bet we could eat out twice a day and spend less than $1460/month.
Have you priced out how your college determines the price of your meal plan?  Have you you found a frugal alternative to eating in the dining halls?