We had a very busy month with financially-related decisions to be made!  Not all of them were made though – actually, none of them.  We just spent a lot of time agonizing.
We tried to plan the trip to Chicago that we're on now and didn't get very far.  We're probably going to decide on our activities day-by-day, though we have a general idea of what we want to do and what it will cost.  We decided to pack all of our breakfasts and lunches and eat out only for dinners – more on that later in the week.
Our lone car needed some repairs (see below) but we had to do some research into what exactly we wanted to get replaced and what product to buy.  We ended up leaving the purchase for later but have an idea of what we'll want (hint: the most expensive option).
The BIG BIG news is that we are moving!  Our leasing office told us that they are raising our already-high rent by quite a bit.  Kyle attempted negotiating with them but they only offered us a small promotion that wouldn't offset much of the raise, so we gave our 60-day move-out notice.  We don't know exactly where we're moving yet but we've been spending a lot of time looking online, emailing and talking on the phone with leasing agents, and viewing apartments.  We've seen several good possibilities so hopefully we can lock one down in the next couple weeks.  It seems that we'll be lowering our rent by $100-150 per month, which is a great relief.  We were basically out of ideas for saving money in our budget and are underfunding several of our targeted savings accounts so lowering this big expense by so much is really going to help us out.  It seems that I unexpectedly took my own advice!  Our lease is up on August 31 so we'll be moving in the last week of August unless we can convince our complex to let us out early.  (I think there's a chance they will – August 31 is after the school year starts so they would be missing out on signing a new student up for their superhigh new rate unless we left early.)
The Everyday Budget
Things that stay the same every month and are not interesting to report:
INCOME: our paychecks
SAVINGS

Roth contributions
targeted savings accounts

GIVING
EXPENSES

rent
cell phones
internet
In terms of our discretionary/variable spending: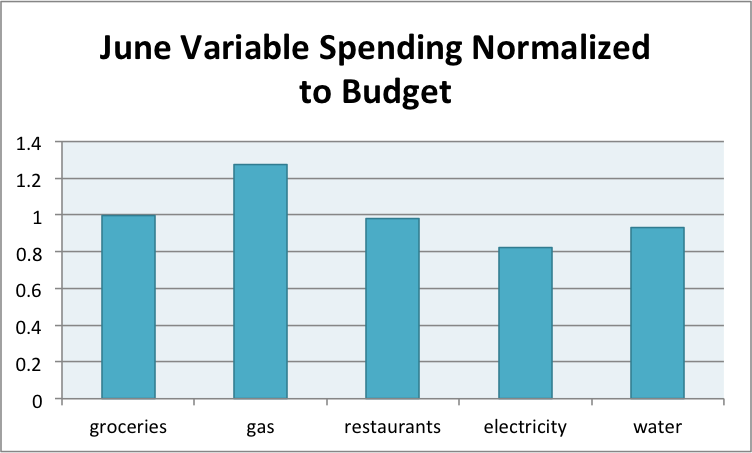 Groceries:  For the whole month I thought we were going to be well under our grocery budget, but we had a big shopping trip right at the end of the month to prepare for our trip to Chicago and we barely squeaked under.  I made the mistake of going to Costco and got larger volumes of many items that we don't normally buy but wanted for this trip, so we'll have to eat those down when we return.  Hopefully that will mean next month's spending will be lower from being out of town and having a lot of leftover food.  I only went to the farmer's market twice, which was less than I wanted, but we got adequate vegetables from our CSA so it turned out fine.
Gas:  We filled up four times this month (not including our vacation travel) so we went way over our gas budget!  We drove out to an outlet mall to buy Kyle's tuxedo so that definitely contributed to our higher-than-normal usage.  Can't go without gas, though, with only the one car, so this was unavoidable.
Restaurants: We kept under budget here with only going out three times aside from our vacation spending.  Once we both ate dinner, once only Kyle ate, and once we both had appetizers during a trivia contest.
Every month we also have some random other transactions that aren't covered in the budget but aren't supposed to be taken out of a targeted savings account.
Income:
We used gift cards for our Target purchases this month.  Since I still counted the purchases as expenses in our groceries and other categories, I will counter it by reporting the amount that we spent off the gift cards as income: $33.07.
We received a large anniversary gift (see below).
We finally got our state tax refund (see below)!
Expenses:
As a surprise present (rare for us!) Kyle bought me a can of tennis balls for $4!  I'm always clamoring for new balls but Kyle is content to use the decent but many-years-old ones we have so using the new ones was a treat.
We ran out of money in our Appearance budget, so we covered two expenses with cash flow that should have come out of that account.  Believe it or not, we did adjust our spending because we knew we were out of money in that category.

I got an $18 haircut (instead of a $50 one) because it was sorely needed and we had events coming up that I wanted to look nice for.  Next time I need a haircut (I get about two per year) I'm going to give Kyle a shot at it.  I get very simple haircuts and I don't care a whole lot so we'll see how it goes.
We attended a party that required cocktail attire and I realized I didn't have anything to wear that fits right now – the downsides of having a fluctuating weight.  I asked my mom to mail me a cocktail dress she bought for me in 2003 that I remembered fits me now and I reimbursed her $9 for the shipping.  So this was my frugal alternative to buying a new dress. J
Spending Out of Targeted Savings
In total, we spent $853.00 out of our targeted savings accounts this month.
Travel and Personal Gifts
We went on a retreat with our graduate Christian fellowship group at the beginning of the month and spent $66.59 all told on meals and gas.  We also spent $124.91 on two registry gifts for events.  Our travel expenses for our Chicago trip (June 29 – July 4) will be in our July review.
Cars
This month we paid our yearly renter's insurance of $134.  We took our car in to get checked out in advance of driving to Chicago and ended up doing $417.25 in repairs.  We were also told we need new tires but a second opinion disagreed somewhat.  We might replace the tires soon, or as soon as we can save up our $500 buffer again.  I want to drive another 15,000 miles on these tires, which is what the tire people told us they had left in them, but Kyle wants to replace them sooner (just not in time for our Chicago trip).  Apparently the last time he bought new tires (2) they put racing tires on, which are obviously inappropriate for our car, so we were told that we're experiencing a "rougher" ride than we would be with proper tires.  All that is to say that we spent some money out of this account, which thankfully we had without having to dip into the money we're saving for other purposes, and we might have more repairs coming up, which means we'll have to increase our savings rate to this account.
Entertainment
Kyle went to a birthday celebration at a local arcade/amusement park and spent $15.25.
CSA and Local Food
I've decided to stop using this account for CSA overages and local food, at least for the summer.  Those expenses are going under our grocery monthly budget.
Appearance
We ended up using part of June's balance in this account to cover $53.49 in leftover shoe expenses from May.  Because of our resulting low balance, we covered out of our cash flow for the two purchases I mentioned above.  So we might take that money out of July's appearance balance to refund that or just give up and fund this more aggressively.
Medical
No spending this month.
Electronics
Kyle bought a new keyboard for his desktop for $7.48.
Charitable Giving
No spending this month, but we did make two Kiva loans with money that had been repaid from our last loans.
Nest Egg
This account received an infusion of May's budget leftovers of $185.13, but then $151.10 went right back out to pay for Kyle's tuxedo and alterations.  No way our Appearance savings account could cover that expense!  I also ended up putting our anniversary gift and tax return into this account, so until we decide to spend part of that money on something fund, we are actually no longer in debt to ourselves!
Budget Adjustments
No budget adjustments this month, but Kyle and I are looking forward to our new lower rent so we can tweak some categories!  Coming in August or September!
In all, we came out $91.21 ahead this month, even after removing last month's huge leftovers.  I'm surprised and excited to have so many months in a row in the black!
How was June on your budget?  Are you seeing travel/eating out/entertainment expenses spike with the start of summer?  How about tuning up vehicles for summer road trips?
Filed under: month in review