Wow, I've been so impressed at how many months we've had leftover money since I started writing this series!  I'm not sure if it's the season change or the accountability this series provides, but something is working!  Or maybe it's just that we pull from our targeted and general savings accounts so much.  😉  This month was characterized by majorly low grocery spending, which always is helpful in freeing up money for other categories.  We also spent way more money than usual out of our savings accounts in a remarkably small number of transactions.
The Everyday Budget
Things that stay the same every month and are not interesting to report:
INCOME: our paychecks
SAVINGS

Roth contributions
targeted savings accounts

GIVING
EXPENSES

rent
cell phones
internet
In terms of our discretionary/variable spending: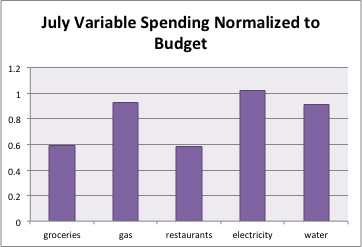 Groceries:  Well under this month, as I expected!  We are trying to eat down the food we have to prepare for our move so I hope next month will be low as well.  But we had thirteen separate transactions in this category this month, which is more than normal – we did a few runs to the grocery store for only one or a couple items, so I'd like to clean that up next month.
Gas:  Two.5 fillups this month, plus I went on a day beach trip with some friends and chipped in for gas and parking.  Normally we wouldn't buy a half-tank, but Kyle thought the station we were at was overpriced.
Restaurants: We only ate out once this month, on my birthday.  I actually also got two free dinners at great (and outside our price range) restaurants in town as part of a career workshop series I've been attending.  Kyle, of course, continued to score lots of free lunches at work.
Electricity:  Woah!  We went over our budget for the first time since we lowered it to $100/month.  I admit we got a little lazy and used our clothes dryer a few times.  I hope we can nip this back under the budget by switching back to line drying.
Every month we also have some random other transactions that aren't covered in the budget but aren't supposed to be taken out of a targeted savings account.  Usually I separate these transactions into income and expenses, but this month we spent some money directly due to having received it, so I've paired those transactions.
Income and Expenses:
We redeemed some credit card rewards.

net + $34.99 to general budget

Birthday Gifts

Kyle received $500 as a cash birthday gift.
Kyle bought himself some birthday presents with the gift money:

a mic $71.85
an audio interface $162.50
cables for all his new toys and a graphics pad $56.88
a mic stand $14.93

net: + $193.84 to our Nest Egg account

more of this may be spent, as Kyle is still considering buying a Kindle

A few months ago I won a door price at our university.  It was a HUGE headache involving multiple trips to buildings on/near campus that are not walkable and a couple hours, but I finally received the money this month.

The door prize was $100.
I joined a professional society for $30 to get (my boss) a discount on a conference registration.
net: + $70 to general budget

Kyle had to get a NC license as his CA one finally expired.

The license fee was $32.
net: – $32 to general budget
Spending Out of Targeted Savings
In total, we spent $1576.57 out of our savings accounts this month (!!).
Travel and Personal Gifts
I added up all the weekend-of expenses from our Chicago trip (June 30 – July 4) and that money came out of this account ($616.57).
Cars
no spending this month
Entertainment
no spending this month
CSA and Local Food
no spending this month
Appearance
no spending this month
Medical
We paid for our birth control from this account (last time for the forseeable future).  The total price was $30 but I covered $25 of it with a gift card from our insurance company, so we only transferred $5 from this account.
Electronics
no spending this month
Charitable Giving
no spending this month
Nest Egg
We are using money from this account for our moving expenses and are planning to pay back into it with our savings on rent.  So far we have paid our application fee ($60) and our security deposit ($895).  Our current place didn't require a sizeable deposit but this new one asked for one month's rent so we had to pull it from somewhere!  This account was also boosted by last month's and this month's budget leftovers and the remainder of Kyle's gift money.
Budget Adjustments
I did a reevaluation of our targeted savings accounts this month.  I proposed some changes to Kyle but he didn't think they were necessary.  In the course of the review, though, I realized that we already have enough money in our CSA account to pay for our subscription next summer, since our farm shifted up their schedule and the growing season we want (spring and summer) is shorter than before.  So we're going to redirect the $25 that we're currently saving to that account toward our Cars savings account starting next month.
Bottom line:  Not including last month's leftovers, we had $142.46 remaining in our checking account at the end of the month.
How was your July budget/spending?  If you've ever had a big housing deposit to pay, where did you draw it from?  Have you seen your utilities spike with the heat?
Filed under: month in review · Tags: security deposit, targeted savings