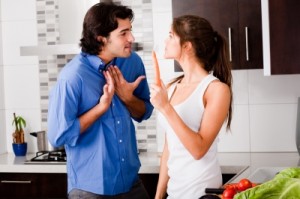 Which adage is correct: "birds of a feather flock together" or "opposites attract"?  Overwhelmingly in marriages we choose partners who are similar to us in a variety of characteristics – except for our money personalities.  Many people are unhappy with their typical spending behaviors, and disliking a personal characteristic can be motivation for choosing a spouse with the opposite characteristic.  People on extreme ends of the tightwad-spendthrift scale we covered two weeks ago might be particularly prone to marry someone on the opposite end of the scale – but how does that choice affect their marital harmony?
Rick et al. conducted several short surveys of married individuals and married couples, in each case assessing the partners on the TW-ST scale and asking other questions regarding their marriages.  Here are their results:
spouses' TW-ST scores are negatively correlated – people do tend to marry their money complement instead of someone similar to them
level of distress over spending was positively correlated with the absolute value of the difference between the spouses' TW-ST scores – since the causality is uncertain, this could either mean that people who experience spending distress tend to marry their complements or that marrying someone with a different money personality produces spending distress (the researchers prefer the former)
larger differences between spouses' TW-ST scores predicts decreased marital well-being and financial harmony, with the decrease in financial harmony fully explaining the decrease in marital well-being
having higher TW-ST scores predicts worse financial outcomes like having credit card debt and not having $50,000 in savings (controlling for income), but decreased marital well-being persists even when controlling for financial outcomes
The most interesting finding of this study for me was the final bullet point, which the authors explain as "Spendthrifts who marry spendthrifts tend to experience greater relationship satisfaction, despite their worse financial outcomes.  In contrast, tightwads may enjoy better financial outcomes and greater relationship satisfaction if married to another tightwad (p. 234)."
My first critique of this paper is in their participant selection – one study drew from online survey participants and two studies drew from surveys posted online.  People with more money issues may self-select to participate in these studies and it would be more ideal to sneak some more money questions into one of the big national surveys on marriage.
My second critique is that the paper didn't mention the "unconflicted" group in the TW-ST scale at all.  Were most of the pairings they observed really tightwads with spendthrifts?  What are the financial and marital outcomes for two "unconflicted"s?
If I were to turn this paper into advice (warning! danger!) I would say: 1) don't be a spendthrift, 2) don't marry a spendthrift, and 3) marry someone with a TW-ST score similar to your own (like I did!).  No, I'm being a bit facetious.  The study assessed marital well-being (important) and financial outcomes (important) but we all knew who was going to win those contests.  But what advantage does a spendthrift confer to a relationship? Clearly all these tightwads find them desirable.  I wonder how the positive effect of a spendthrift in a relationship could be assessed – overall stress levels? closer relationships with family and friends?
On a personal note:
1)  One of my parents is a tightwad and the other is a spendthrift.  They have lots of conflict over money and decreased marital well-being.
2)  Even though Kyle and I have exactly the same TW-ST score, we still have conflict over money, though it's about fairly minor differences in preferences or how obsessive/anal I'm being.  I guess I'm saying that even if you're not that different, if you have the personality for it (and I do) you'll find things to fight over!
Do you have personal experiences or observations to support or detract from the study's conclusions?  What's the difference between your spouse's TW-ST score and yours?  What does a spendthrift bring to a relationship with a tightwad?
Rick SI, Small DA, Finkel EJ. "Fatal (Fiscal) Attraction: Spendthrifts and Tightwads in Marriage." Journal of Marketing Research 48: 228 –237.
photo from Free Digital Photos
Filed under: marriage, the literature · Tags: cheapskates, marriage, opposites attract, spendthrifts, tightwads