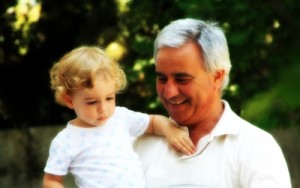 I have noticed an unexpected trend in my friends/peers who have had their first child.  I guess I assumed that new parents would, after their maternity/paternity leave ended, either both return to work and put their child in daycare or one parent would stay home to care for the infant.  Instead, I would say that most of the first-time parents that I have observed (an admittedly small number) have their parents provide childcare after both of them return to work.  I have seen local grandparents substitute for daycare, but most of the time at least one set of long-distance grandparents moves in with the new family for several months to care for the baby.  I'm not sure if this is for financial reasons, quality of care reasons, or just because the grandparents want to be involved.
I guess it just struck me as a bit surprising because I associate having family provide childcare as (statistically) a lower-class arrangement (for kids, at least), which I learned about via Kyle's Economics of Work and Family class from college.  I don't think of any of the people I've seen have kids as "lower class," though as some of them were grad students maybe their income isn't quite in line with being middle class, either.
I don't know if Kyle and I would want or be able to have our parents come take care of our first kid.  First of all, we each have one working parent and one retired parent, so most likely neither couple would be able to stay with us for an extended period.  Second, I don't know if adding our parents to an already crazy-new and stressful situation would help more or hurt more.  I learned when I moved back in with my parents after college that we get along much better when we don't live together, and I don't want to be walking on eggshells feeling like we have guests for months on end.
But maybe I'm being overly pessimistic and having parents around to help you navigate the life-changing and uncharted territory of parenthood is incredibly beneficial.  And I'm sure the larger adult-to-infant ratio of in-home grandparent-caretaking must be better than what daycare can provide.  Plus, daycare is super expensive and there are probably a variety of financial exchanges that could be worked out with grandparents.
Did you parents care for your newborn and if so did you compensate them in any way?  What are the pros and cons in your view of this kind of arrangement?
photo from Free Digital Photos
Filed under: family · Tags: daycare, grandparents, stay-at-home