I like to think that I have quite a bit of self-control and the ability to delay gratification – I bet I would have aced the marshmallow test!  So when I see the term "impulse purchase" I think that it can't apply to my spending habits.  I mean, I don't add candy at the grocery store checkout aisle, and what else could an impulse purchase be?
The more I thought about that question, the less I was able to pin down an answer.  At first I though "impulse" would be defined by the amount of time between first considering and making the purchase, but now I think there are several factors at play.
For example, which of these scenarios do you think is an impulse purchase?
a frivolous want you picked up at the last second before purchase (convenience store, checkout aisle)
a grocery item added to your list while in the store
an eReader you purchased after 30 minutes of research
a vacation deal you booked within two hours of finding
a used car after you monitored Craiglist for three weeks
a house purchased "on a whim"
I think that the chief determinant of whether or not something is an impulse purchase is the ratio of the price to the time spent considering the purchase.  A day spent considering a purchase could be non-impulse/responsible when the price is small but impulse when the price is large.  This reminded me of Barney's Hot-Crazy Scale from How I Met Your Mother.
HIMYM Special – The Hot/Crazy Scale [3.05] from pride on Vimeo.
(BTW it's always bothered me that Barney mischarted Vicky Mendoza's behavior!!)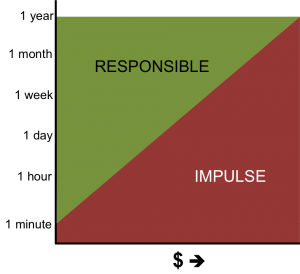 Of course there is some influence of income or discretionary spending on exactly where this line is for you – purchasing an eReader might be responsible with only a few minutes of consideration for someone with a high income, whereas we deliberated for a couple days on it even when we were getting it for "free".
How about these questions regarding impulsivity?
Is it less of an impulse if it's a great deal?
Is it a 'want' or a 'need'?
Did you have to use debt?
Does writing it down matter?
Did you check with your spouse?
Is this an emergency?
Is the item consumable or something you will live with for some time?
Have you considered the opportunity cost?
So I wasn't able to come up with a definitive answer, but I probably won't be throwing the term "impulse purchase" around anytime soon since it turns out to be so complicated (to me).  And I'm less confident in my imperviousness to impulsivity.
How do you define an impulse purchase?  What do you think about the factors I proposed?
Filed under: spending · Tags: impulse purchase