I see the topic of no-spend challenges brought up repeatedly in the PF blogosphere – and I always dismiss them as not being for me.  I feel we have a no-spend lifestyle!  We don't have a classic "latte factor" – a daily drip of single "want" purchases that add up substantially – and I think that undertaking spending fasts would only result in spending binges because we would delay necessary spending.
But I had never gathered for myself the data regarding the frequency of our spending, which is difficult to discern from Mint because we make a lot of online internal transfers between our checking and targeted savings accounts on top of our autodrafted bills.  I decided to look at an entire month's worth of transactions and sort out how many of them are purchases that qualify as "spending."
Different people have different opinions on what counts as spending in a no-spend challenge, but for the purpose of tracking and reforming spending, the only types of transactions that matter are ones initiated by the challenger that are discretionary purchases, not utility bills and the like.  For us, it's easy to differentiate discretionary and not because all of our bills are auto-drafted on various days throughout the month, not written as checks or even manually initiated online.
This is how I categorized every transaction we made in the month of January:
red stars are purchases/transactions that would count as "spending"
purple lighting bolts are auto-drafted external transactions such as bill payments and paycheck deposits
green two-way arrows are transfers internal to our accounts (targeted savings to checking, checking to Roth IRAs, etc.)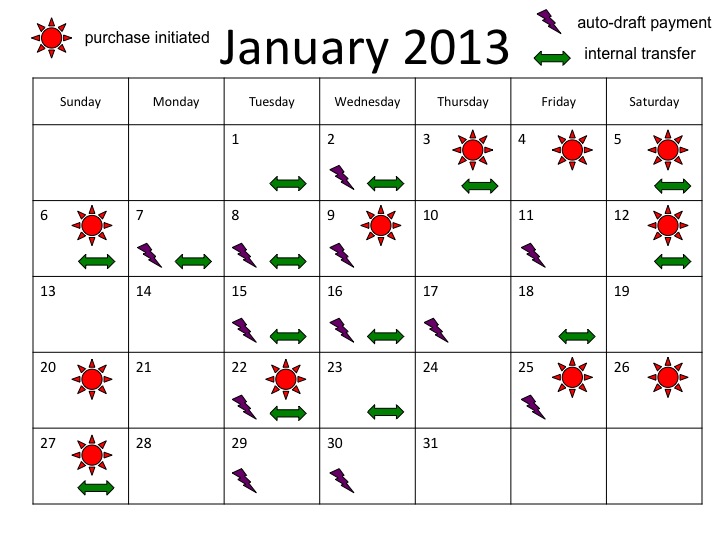 The results are that of 31 days we made purchases on 11 days, drafted external transactions on 12 days, and made internal transactions on 14 days.  So for a typical no-spend challenge, we would have had 20 of 31 days qualify as "no spending."  I think that's pretty high, especially without trying to reduce the number of purchases or group them together!
I'm glad I put this data together visually because I can see our spending patterns, which I found a bit interesting.  We spend money every weekend on groceries and also tend to run errands on Friday through Sunday (getting gas, going to the hardware store).  Our spending on Monday through Thursday is really quite minimal – I can name all of the purchases we made on those days in January off the top of my head: buying the lift tickets for our ski daytrip, buying a mini cheesecake from our friend's new baking business, and dining out for Restaurant Week.  All of those were one-off events, too, not part of weekly patterns.
Our "latte factor" is more likely to be services we use all the time but pay infrequently like insurance.  This is the reason that we reduced our rent by moving last August and will continue to focus on reducing our fixed living expenses instead of being concerned about our purchasing habits.
Do you undertake no-spend challenges?  If you plotted all of your transactions like I did, how would they compare?  What's your latte factor?
calendar base from The Calendar Spot
Filed under: spending · Tags: no-spend challenge