Last year I posted an explanation of why high cost-of-living cities are so expensive: a lot of people think they are awesome and want to live there. At that time, Kyle and I were living in a medium cost-of-living city that we thought was great but not ideal. Now, we have moved to not only a high cost-of-living city but a city that is rapidly expanding both in population and cost (Seattle). And for us, it's pretty far from ideal.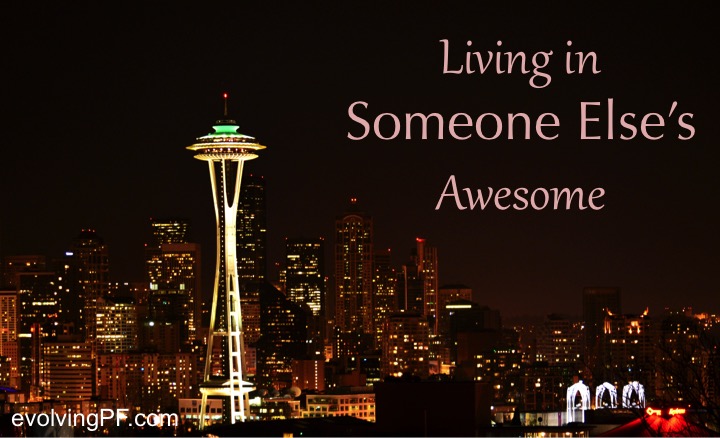 Cities naturally have different attributes from one another: industry, culture, climate, geography, etc. I grew up outside of Washington, DC, and obviously the main draw in that area is the proximity to the federal government. Kyle grew up outside of Los Angeles, which has many attractive industries, sunny weather, Disneyland, beaches, etc.
People are moving to Seattle in droves for the burgeoning tech industry. Nearly everyone we meet is a recent transplant, and most of them work for Amazon, Microsoft, or Boeing. The main feature aside from that particular industry seems to be the weather. People who are lifers love it. (They wax poetic about fog. They are impervious to rain. They complain about too many sunny days in a row.) Everyone else repeats, "It's not as bad as people say." Also, based on the level of fanaticism, you would think that coffee and football were invented or (at least perfected!) here.
I'm excited for the people I know here who really want to live here. Two of my friends from college grew up in Seattle but lived in southern California for over a decade; they were chomping at the bit to return as soon as they were finished with grad school. One of my friends from high school had wanted to move to Seattle for about a decade before his career finally aligned to allow him. They have made their way to their forever city and they couldn't be happier. I would imagine that the high cost of living in Seattle is well worth it for them because the city is such a good fit.
We however, seem to be living (and paying for) someone else's dream. We are misfits in Seattle: non-coffee-drinking, non-tattoo-sporting, and non-Seahawks-rooting outsiders.
While we did move here for a job, it wasn't a job that is typical for or unique to this city. Kyle's job is here because the lab the company spun out of is here. If this company folds and Kyle doesn't want to or can't get another job generated by this particular lab, we'll leave the city. There just isn't an industry or market here for him the way there is in biotech hub cities like San Diego or Boston. So the premium we're paying to live here is not going toward local networking opportunities or anything.
While the native Seattlites seem to be almost vampiric in their light and temperature preferences, Kyle and I prefer a sunny, warm, and dry climate. In the past two weeks I've taken two short trips to California and was delighted to my core by the blast of sunshine and warm air I experienced. I spent as much time as I reasonably could soaking it up (considering they were still workdays). There is no doubt for us that southern California will be our next and (we hope) last move.
Unfortunately, your cost of living does not scale by the personal value you receive from your location but rather what the collective population determines it will be through the market. The tech industry overall's (and Amazon in particular's) aggressive hiring in recent years has driven up the cost of housing precipitously in Seattle, to the chagrin of renters and people trying to buy homes. Seattle is now a destination city (even if it's not our destination), and we have to pay for it as such.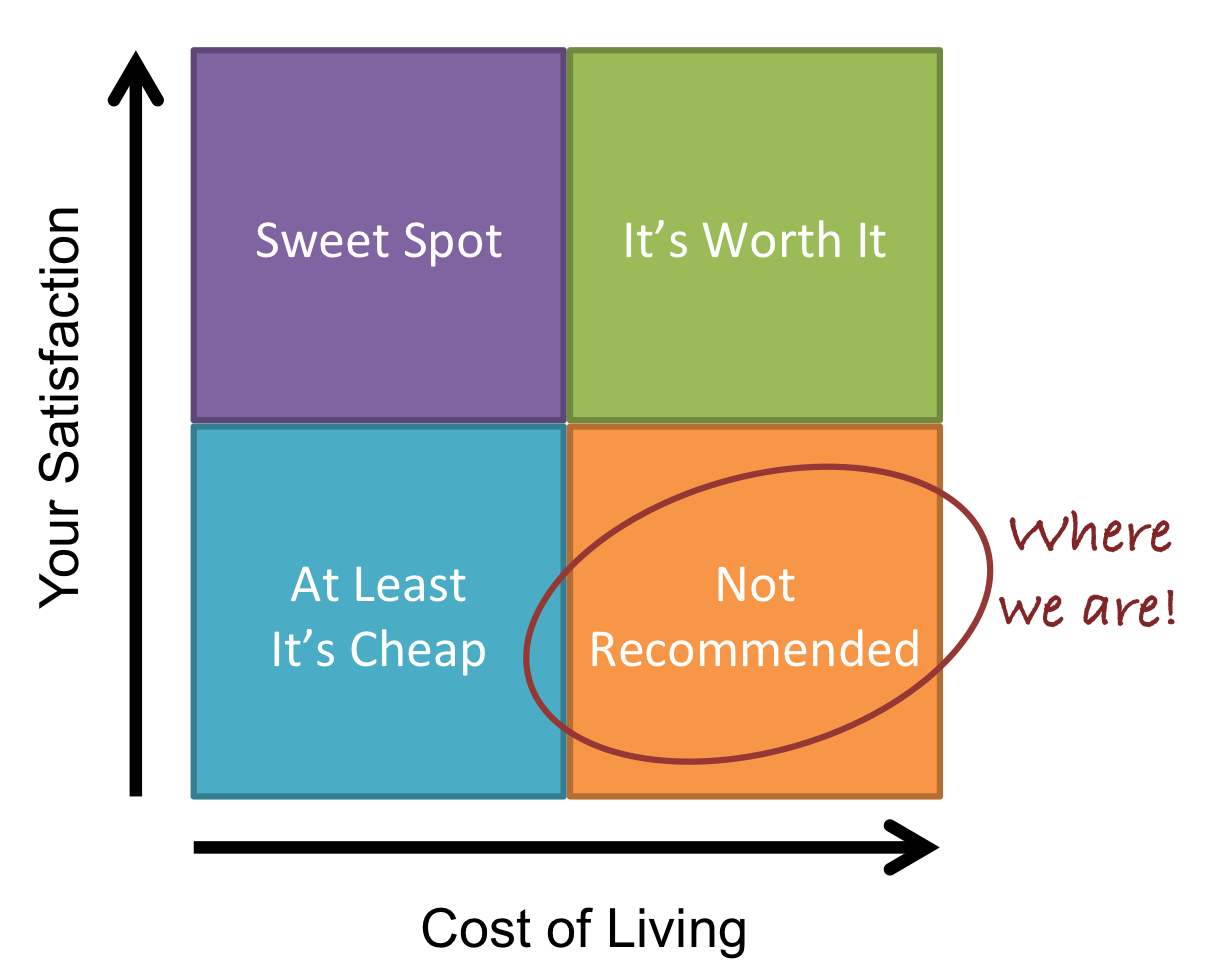 This is a bigger pill to swallow than living in Durham was, because even though Durham wasn't our ideal city at least the cost of living was moderate. We could easily keep our expenses low and save a lot of money. Now, in Seattle, we're struggling to see how we can build up a down payment for a house in a city we really want to live in.
Does it sound like I'm struggling to adjust to living in Seattle? Maybe I am a bit! Self employment sure isn't helping. But I don't hate the city or anything. I really like that there is water everywhere and that it's walkable/bikeable. I'm going to put in serious effort to finding places and (more) people that I really enjoy during the time that we're here, and I hope I can edge the satisfaction I experience in living here a bit higher.
Have you ever lived a life that was someone else's dream (city, job, school, etc.) but it really wasn't yours? Where do you fall on the cost of living/satisfaction grid?
photo by Anupam_ts and used under CC by-SA 2.0
Filed under: housing · Tags: cities, cost of living, Seattle