Since our move to Seattle, Kyle and I have been meeting lots of new people as well as updating our friends and acquaintances about the changes in our life. These conversations often go as follows:
new person: So what brought you to Seattle?
Kyle: I got a job at a small biotech start-up.
new person: Oh, wow! That's great. And what do you do?
me: I'm self-employed. I'm starting a business teaching graduate students about personal finance.
new person: A start-up and a new business? That's so exciting! This is the time of life, I guess! [I believe they are referring to our young age and childless status.]
After we had the above exchange half a dozen times, I realized that our career choices do sound risky to an outsider and are in reality quite risky. There is a real possibility that both these businesses will fail – even simultaneously! Kyle and I are naturally both risk-averse people, so it doesn't fit with our personalities that we would both become involved with entrepreneurial activities, particularly at the same time. In fact, while we were in graduate school and we discussed Kyle joining a start-up, it was always with the assumption that I would have a stable non-research position so that our household income would be diversified.
We came to these career choices largely by circumstance – Kyle wasn't targeting working at a start-up, but this job is just an amazing fit with his research interests, and I wanted a 'job' I could take with me through our move and to pursue the weird passion for personal finance that I developed during graduate school. But I think there is a clear reason why we feel comfortable with these choices: We built a financial safety net for ourselves during graduate school and diversified our income.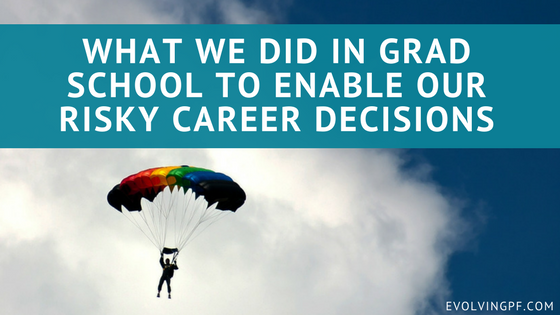 It would have been easy to let ourselves off the hook for saving during grad school. Combine the low expectations of any American starting to save in their 20s (YOLO!) with the fact that we were each only earning about $25-30,000 per year, add in a dash of the permanent income hypothesis, and we could have justified coming out of graduate school with the same net worth as we had going in. And had we done that, we probably would both be in the jobs we imagined for ourselves a couple years ago: a postdoc for Kyle and a stable 'alternative career' job for me.
Instead, during graduate school we pushed ourselves to save both for retirement and short-term expenses. We gradually increased our retirement savings rate from 10% at the start of grad school to 17.5% by the end, flying past 1 year's salary in our Roth IRAs by age 28. Including our short-term savings, which we amassed almost without awareness through automatic transfers to our targeted savings accounts, we surpassed a net worth of $100,000 just before we graduated.
I believe that getting an early start on our retirement savings and creating a large cash cushion during graduate school enabled us to make our risky career decisions, which in time may even bring us a monetary upside. We have also limited the potential downside of losing our jobs through (potential and actual) income diversification.
1) We can make risky decisions.
While Kyle's start-up going under or my business never getting off the ground would definitely stink overall, it's frankly not a concern of ours financially. We have the ability to find other jobs, of course, and the savings and sources of income to fund our living expenses for even a protracted job search process.
Kyle can work at a start-up because of our savings
Right now, thanks to Kyle's higher income and our long experience with keeping our living expenses low, we will be able to live on Kyle's income alone. When Kyle was considering taking this job, we of course talked over what we would do if the start-up went under with no warning (we think it's unlikely, but…): Kyle would look for his next job in southern California and we would live on our savings and my lower income until he landed one. Our existing short-term savings are the key to making us feel confident enough about this back-up plan for him to take the job. Risk-averse people like us would not consider going into debt to fund our living expenses during a job transition, so without the savings in place he honestly probably would have ended up in a (more secure) postdoc position.
I bring income diversification to the table
By living on Kyle's income alone right now, we are thus avoiding the two-income trap. (Briefly: Many middle-class families often need both spouses to have income to meet their living expenses, which throws them into a tailspin when one loses a job.) As my income is not needed for paying our living expenses, any income I do bring in is just added security (or fun) for our life. If Kyle were to lose his job, we could depend on my income from my business and my contracting job or I could get a 'real' job. The contracting job is my fall-back plan for dependable income in a pinch, and I'm trying to build diversified income streams even just within my business (active: speaking, writing; passive: digital products).
2) We might enjoy an upside.
Part of the reason that we are willing to take on the risk of the start-up and business is for the potential upside. We've already gotten our first taste of the upside: Kyle's salary at the start-up is about double what he would be paid in a postdoc position. Furthermore, he will be given equity after he's been at the job for a year. We ran some numbers on a best-case scenario on the start-up going public after he has his full share, and while it's nowhere near a let's-retire-now level of money, it's nothing to sneeze at, either. There's a very small chance of that scenario occurring – but hey, it's non-zero, and maybe we'll end up with a smaller but significant upside. In the meantime, it's a job. 🙂
Entrepreneurs love to talk about how there is no limit to your income – and in the same breath tell you that it takes years to earn anything substantial. I'm definitely on the latter side of that equation now, but again there is the possibility of the former in time. More realistically than sky-high income, though, is the upside that again I am already experiencing: job satisfaction. I love working all alone from home (yes, I wear pajamas half the day), I love my subject matter, I love my audience, and I love my medium(s)!
This benefit to building savings and diversifying income is not one I really thought about while I was in grad school. I mean, I realized that savings would give me security and options, but I never thought it would enable us to take these kinds of career risks right out of the gate. This might end up as one of the stronger arguments I know for why to start saving during grad school!
Has your savings given you options? Do you wish you saved more or less in the past? Have you ever taken a big career risk (or two)?
photo by Philip Leara
Filed under: career, choices, savings, self-employment · Tags: business, risk, start-up, upside