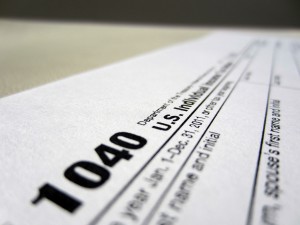 My dad loves to encourage me to "learn something new every day," and that's certainly a great way to grow. Kyle and I submitted our tax returns last Saturday, and I realized that we learned quite a bit about taxes this year for our personal return. (I additionally learned a lot about grad student taxes, but that was more academic for me.)
This year was our most complicated tax return to prepare to date, and we did the whole thing without even referencing tax software. That's right – we manually prepared our tax return (Free Fillable Forms all the way)! Of course, we probably couldn't have tackled this in this most complicated year yet without having built up many years of preparing less complex returns ourselves and with software. We also aren't sure that we did everything right – but then again, you're not really sure with tax software or tax preparers, either.
The elements to our returns this year (beyond the typical W-2 income on the 1040 thing) were:
The biggest reason that I actually like preparing our tax return manually is that I get to learn new things about the tax code, and that new knowledge is often useful in making future decisions to optimize or streamline our money and tax management. Here are the new things we learned while preparing our tax returns this year:
I don't have to include my speaking travel reimbursement income in my gross income if the university was reimbursing me for my exact expenses incurred (accountable system). In this case, the 1099-MISC the university sends me will only reflect my fee and not the travel reimbursement. If I'm reimbursed under a non-accountable system (I've had one university already in 2016 do this), I need to report the whole income (the 1099-MISC should reflect both the fee and reimbursement) and then take a deduction for my actual costs.
If I travel for a speaking engagement but don't have to pay for sleeping accommodations (i.e., it was a day trip), I won't be able to deduct my travel expenses because I wasn't "away from my tax home." So basically if I have any of these kinds of trips – and I did have one in 2015 that involved flights and taxis and meals – I need to make sure I'm being reimbursed under an accountable system so I don't have to include the reimbursement in my income.
I can deduct 50% of my actual meal expenses or 50% of a meal per diem that is calculated by each individual city visited. Since I'm sometimes frugal with my meals on these trips, the latter results in a lower tax burden for me.
The Schedule D can be tackled like most everything else in a tax return – by diligently following instructions.
DC has a reciprocal tax agreement with every state.
You won't be penalized for under-payment if you have withheld or send in through estimated tax payments more than 100% of your tax due in the previous year.
If you itemize your deductions, you have the choice of deducting either the amount you paid in state income tax or the amount you paid in sales tax. However, you don't actually have to keep track of how much you paid in sales tax through individual receipts (unless you think it would benefit you) – there is a standard amount that you can deduct for sales tax that is based on where you live and your income. This is another way low-spenders can benefit from IRS estimates over actual amounts of money spent!
I'm really glad that I found out the stuff about the business travel deductions this year so that I can ask for reimbursements from universities in a way that will simplify/minimize my taxes. I'm not sure if I would have learned about that without manually preparing my return. It took the dedication to do a lot of reading and call the IRS helpline but I cleared up my initial misunderstanding (that I had to include all reimbursements in my income and then deduct all of my expenses).
This year was also the first year that I actually went through the Schedule A to figure out if we would benefit from itemizing our deductions. I remember talking with Kyle's mom about this a couple years ago and she couldn't believe we didn't need to itemize since we tithe. But yet again we benefit more from taking the standard deduction. Even with tithing and being able to deduct sales tax in Washington, it doesn't look like we'll benefit from itemizing until we buy a house or my income increases a lot (i.e., we give a lot more).
At the end of the day, we owed the IRS an additional $2,681 and the NC DOT an additional $819 for a grand total of $3,500 out of pocket this month. We had way more tax withheld in 2015 than we owed in 2014 due to Kyle's income jumps, so we didn't have any penalties associated with this underpayment. Since we had $6,009.78 set aside in our Taxes account from our 2015 income, we paid the $3,500 with no sweat and even gave ourselves a tax refund of $2,509.78. Oh, and we do have another savings goal in place now that we put that tax refund toward – more on that next week!
What did you learn about the tax code this year in the process of preparing your return? Did you owe tax or get a refund this tax season (or both!)?
photo by 401(K) 2012
Filed under: debt, giving, investing, self-employment, taxes, transitions · Tags: tax refund, tax return