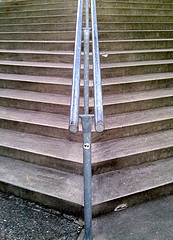 This week I'm thinking about a great illustration that our pastor used a few years ago in a sermon on putting others before ourselves.  He was helping our church accept that if we chose to live by the Biblical principles of money management, we should expect to see obvious differences in our lifestyles in comparison with our peers at work.
By tithing 10% of our income and giving generously above that, we would be one step behind.
By financing our lifestyle with cash flow instead of debt, we would be two steps behind.
By saving for the future, we would be three steps behind.
The upside, of course, is that we will benefit from following these principles because money will be in its proper place in our lives – not worshipping it as an idol but being able to use it to sustainably provide for ourselves and bless others.  These principles are how we behave as good stewards of God's money.
I used to feel a step or two behind my peers when I was single and paid more attention to how other people lived.  I wouldn't say, even though I was doing all three of those actions starting after my first semester in grad school, that I necessarily felt fully three steps behind my peers.  Maybe none of us made enough money for it to be really noticeable.  Sure, some of my classmates drove newer cars, lived without roommates, or ate out every day, but the differences didn't feel huge.
Now that I'm married I don't directly compare myself to my peers often anymore because we hardly know any other dual-PhD-student married couples and I've turned more attention inward.  I suppose I could imagine some significant lifestyle upgrades that we could enjoy if we didn't tithe, didn't contribute to our IRAs, and ran up credit cards, but there's no way I would want that over what I have now.  By living this way we have more monetary security – from non-indebtedness and savings – as well as a clearer recognition that God is our ultimate provider.
Do you perceive your lifestyle to be lower than that of your peers because you give, save, and/or pay cash?  Do you feel envious or are you happier handling your money that way?
photo from teachernz
Filed under: choices, debt, giving, savings, values · Tags: behind my peers, give, good steward, jealousy, save, tithe