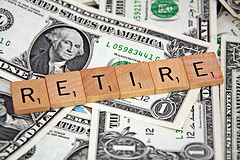 aka Why You Should Save For Retirement Even with a Low Income
This is the second half of a two-part post intended to inspire graduate students and others with low incomes who are currently not saving for retirement to start.  Check out the first post for my assumptions and an argument concerning compound interest.  Please remember that I am not a financial planner or CPA and you should not consider my opinions financial advice targeted for your situation.
2)  Practice and a Learning Opportunity
I view investing during graduate school as a learning experience, if nothing more.  Even if we end up with $0 at the end of grad school I'll be happy for the lessons we're learning.  For instance, I made an enormous mistake with my retirement accounts right when I started out, and you can bet your britches I'll never be unclear about exactly what funds I'm invested in again.  (This sort of decision can be very confusing to people choosing among 401(k) options offered by their employers.)  If I had made that mistake in my first year in a real job, with real money in a 401(k), it would cost me a lot more in lost returns.
In the last few years we have learned:
How to choose a company to invest with based on their expense ratios.
How to choose funds that meet our objectives.
Some about the tax implications of tax-advantaged retirement accounts.
Our risk tolerance.
How to work together to make investment decisions.
I say it's best to get this practice in as early as possible, even if the amount of money you're investing isn't substantial.
3)  If You Can't Afford to Save, You Can't Afford Your Lifestyle
There will always be a good reason not to save for the long-term.  While in graduate school, it's because you have a low income and expect it will be easier to save after school, when you have a higher income.  Once you get out though, maybe you'll decide to replace your car and furnish your new place.  Then maybe some other life events will come up that are more important to throw money toward, like a wedding or a baby.  Maybe you'll decide to aggressively save for a house downpayment, and then make repairs and upgrades the house that you buy.
Those are all perfectly legitimate uses for your money and I'd commend you for paying cash for them.  But just like they say about having a kid, if you wait for the "perfect" time to start saving for retirement, you never will (or at least you'll burn years of potential compounding-time until you wise up).  The fact is that if you can't spare 10% of your income to savings (or debt repayment), you can't afford your lifestyle.  (Remember that we are assuming that your stipend is a living wage.)  Because your income is fixed by your university, if you feel you can't save it's because your living expenses are too high.  Upon realizing that, you can either accept that your lifestyle is out of whack and promise yourself that you'll get it in line later, or you can take steps to live on what you earn now.  It's my opinion that there are only a few exceptional life situations wherein you should forgo saving for the future, such as unemployment or when paying back high-interest debt.  I do not view graduate school as one of those exceptional situations.  Treat it like the rest of your life and save at least 10%.
4)  You Don't Know the Future
I expect that Kyle and I will experience an income jump after we graduate.  You probably have the same expectation.  I hope it's true for all of us, but I don't know that it will be.
Last Friday was Match Day for fourth-year medical students.  My Facebook News Feed was exploding with announcements of residency placements for many of my friends.  However, 5% of US medical students didn't match with a residency (source).  That doesn't mean that their lives are over, but it probably means that those students will not remain on the (lucrative) career path that they had anticipated when they entered medical school and (likely) took out tens or hundreds of thousands of dollars in loans.
I'm sure you have also heard about the bleak picture for graduating law students.  More than a third of graduates haven't found full-time work in their field nine months after graduation (source).  It has become such an issue that the law schools are finding ways to fudge up their graduates' employment numbers.
Any one of us could become a victim of a soft economy (ask the college graduating class of 2009!), but something more personal could happen as well.  You could become disabled.  You could move with a partner to a location that doesn't offer jobs in your specialty.  You could shoot for a tenure-track faculty position and end up cobbling together adjunct teaching positions.  The political climate could shift and funding could be cut in your field.  You could decide to enter the nonprofit or public service world.  I'm not saying this to scare anyone, but I am trying to warn you not to put all your eggs in your future-income basket.  Do what you reasonably can now to prepare for the long-term and don't bank on your best hope of what the future will entail.
I hope that you have been motivated to save for the future despite your student status and low income.  I think the Roth IRA is a great choice of retirement account for a student who has earned income.  If you're not sure whether or not you have earned income, check back on Tuesday for my participating post in a movement of bloggers all writing about Roth IRAs on that day.
Do you agree or disagree with the arguments I presented in this post?  Are any of them your personal motivation for saving while in school?
photo from 401K
Filed under: choices, retirement, savings · Tags: compound interest, grad student, graduate student, low income, PhD student, retirement, Roth IRA, saving, time