Marital problem confession time:  Kyle and I have two areas of our financial picture that have created a fairly high level of conflict on several occasions during our marriage.  They both have to do with fully separating ourselves financially from our parents.
During premarital counseling, we learned about "leaving and cleaving" (Genesis 2:24), which means separating from your family of origin and creating your primary allegiance with your spouse.  While going over all our money management operations and accounts in detail during our engagement, we each found an area of the other's financial picture of which we Did Not Approve and thought that the other should change to complete the financial aspect of the leaving and cleaving process.
My problem: Years ago, Kyle's name was added to one of his parents' credit cards.  I suppose it was largely for emergencies and I think he had occasionally purchased something for himself as a gift that his parents wanted him to have, but by the time we were engaged he hadn't used it in quite a while.  It actually had a very positive effect on his credit score because the credit limit on the card was so high (I was jealous).  Since he had his own credit card by that time, I didn't see the point of his name still being on that account.  He didn't see why that would bother me and refused to ask his parents to remove his name.
Kyle's problem: Years ago, my family set up a family plan for our cell phones.  I've mentioned here before that I don't have a smartphone, and in fact I have not gotten a new phone or updated my plan in any way since 2006 when I was still in college.  Every month I pay my parents my fraction of the total family plan bill.  Kyle didn't think that I should still be on a family plan with my family of origin and if anything we should have a family plan together.  I didn't see the point in changing my phone situation (read: paying more) until my phone broke or I wanted to upgrade, at which point of course I wouldn't continue on my parents' family plan.  I refused to give up the plan.
I recognize that these issues are very minor and they don't involve actually receiving money or being dependent on our parents.  But Kyle and I are very stubborn people and fights tend to recur until the underlying problems are resolved!  I think I picked on the credit card first and then he picked back on the cell phone.  It all boils down to a "what's the harm" and "if it ain't broke, don't fix it" attitude.  And we haven't resolved it after two years!  We're currently in a cease-fire but I'm sure it will come up again.
There are some other ways that we receive financial benefits from our parents, but I don't think they rise to the level of threatening our financial independence from them.
We accept and give gifts, but our parents definitely spend more on their gifts for us than we do for them.  Last summer we received very generous cash gifts for our anniversary and birthdays, which largely paid for the two new laptops we purchased.
My parents paid for the fixed costs of a family vacation we took with them.  We wouldn't have gone on the vacation without their offer of payment.  We paid most of our variable costs.
We stay with our parents while visiting their cities instead of hotels.  This doesn't really cost them anything except some incidental groceries, but it saves us a ton.  When we visit Kyle's parents we usually borrow one of their cars, which saves us the cost of a rental.
Our parents take us out to dinner at least once whenever we visit and we never pay.
Oh, right, and our parents largely paid for our educations and wedding(s).  Those are major ones, though in the past.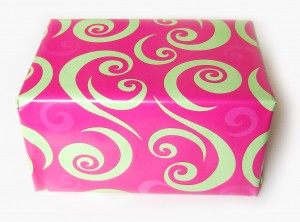 To me, all of items in this list fall under the heading of gifts.  Our parents are very generous and love to spoil us a little when we see them (like going out to dinner) and it's wonderful for us because we don't treat ourselves like that normally.
It's hard to see our own blind spots with regard to our families.  Every family's normal modes of behavior seem quirky and strange to an outsider, and it's certainly an adjustment when marriage brings in a new party.  Neither Kyle nor I gave second thoughts to the accounts still connecting us to our parents until the other objected.  I'm not sure how the situation will totally resolve itself, but I am confident that none of these minor disagreements are real leaving issues.
Do you think it's important to sever all lingering financial ties with your parents by the time you get married?  Do you have any remaining financial structure with your parents that you haven't gotten around to eliminating?  Do you consider that your financial independence has ever been compromised because of gifts from your parents?  
photo from shanii
Filed under: marriage · Tags: family of origin, family plan, gift money, gifts, leaving and cleaving, shared credit cards, vacations