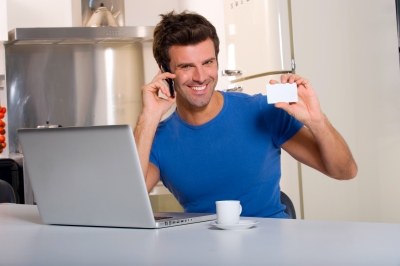 I took a career/personality assessment test a couple years ago through my university's career center called the Strong Interest Inventory, and it told me that I don't have the aptitude to work for myself.  I really didn't need a test to tell me that – I could just look at the evidence of my life, and Kyle's too.  Not only have I never run a business, I've never wanted to. I haven't even pursued side hustles/part-time work/contract work aggressively since I had a lukewarm experience contracting for a tutoring company post-college.
Kyle and I actually do have marketable skillz outside of academic science (unbelievable as it may seem to me).
Kyle has had a lot of education in CS and he occasionally gets excited about little coding projects.  He's had a couple (really good, IMO) ideas for smartphone apps that he actually coded up about 80% of the way and then dropped.  I tried to push him to finish them up and try to sell them, but the interesting part of the process to him is the core coding challenge, and once he got that far he didn't care about pushing toward marketability.
I enjoy writing (you can judge the end result for yourself) and editing and I have experience in those areas, but I haven't pursued the opportunities that I have come across in my field to get paid for that sort of thing.  Working in that area is something I'll consider for after I graduate, but if I were more entrepreneurial I would start contracting editing work now.
And of course there's this blog!  Kyle and I both want the blog to be monetized, but neither of us is willing to put in the work to monetize it!  And apparently actually having another income stream isn't enough of a motivation.  Please don't read that in a complain-y way – I'm just making an observation about our personalities.  We're slow to act; we're not risk-takers; we feel guilty spending too much time not working toward our degrees.  We do have the option of outsourcing some of that work, but we haven't decided to make that commitment yet.
Anyway the reason this is on my mind is two-fold:
1)  I had a lovely conversation this week with two friends who are (about-to-be-) mommies.  One works part-time, mostly from home, and the other is debating how much to cut back at her job once her baby arrives.  We spent a bit of time brainstorming ways the stay-at-home mom could create another income stream (Etsy?).  These conversations always force me to think about what I want from my career and home life once Kyle and I have a baby.  Will I have a full-time job that I love that I won't want to leave?  Will I be too exhausted to function in my job?  Will we assess, as one of my friends did, that the day-care options in her area are unsatisfactory and she is more comfortable being the primary daytime caregiver for her child?  Will we financially not be able to survive on Kyle's income alone?
What I'd like to do, in light of all this uncertainty, is set us up to have one or more income streams aside from our day jobs that I can work on from home in a less-than-full-time role so that we don't have to have full-time daycare and I can work on my own schedule and at my own pace.  This blog figures into that plan (if we ever monetize), as well as some of the other industries I mentioned above.  But I am nervous that my track record in really preferring outside employment may prevent me from being successful working for myself.  Perhaps if we had a lifestyle that we couldn't sustain without the side incomes that would be enough motivation.
2) Kyle and I have some friends who run a science-related business out of their home.  I don't know the details of their work, but it seems to be the type of business where the investment in capital is the main deterrent from people getting into production and it leaves plenty of time to pursue other activities, like child care.  I think it's a high-volume, low-margin sort of thing that either of us could participate in.  The business is actually franchised so there are a few outposts in various cities.  Our friends mentioned to Kyle that they really need to open up another branch in CA because they're losing quite a bit of money on their flat shipping rate going from the east to west coast.
As you know if you've been reading this blog for a while, Kyle and I want to settle in southern California (San Diego, ideally).  Now this idea of opening up a branch of this business once we move there is stuck in my head!  It would be particularly ideal if Kyle is still in academia in some manner.  It would be easy to do this work even if I'm sleep-deprived.  But again, I'm nervous that we wouldn't be adept at marketing and other aspects of running a business.
Maybe it is best for us to stick with outside, full-time employment.  But if the lifestyle we want necessitates work-from-home/flexible employment, will we (I) be up to self-employment?
What's your preference – to work for others or to work for yourself?  Are you or have you ever done the opposite for a time?  How willing are you to pursue additional income streams?  What's your experience mixing making money and caring for babies?
photo from freedigitalphotos.net
Filed under: income · Tags: contracting, entrepreneurship, working from home