I listed to Marketplace every day and have hear many pieces on the fiscal cliff aka taxmageddon.  Basically, there are a bunch of federal tax cuts and spending increases that are set to expire at the end of 2012 if Congress doesn't take any action.  Since the legislature is apparently completely paralyzed during our ever-lengthening election season, we won't know if the fiscal cliff will be partially or completely prevented probably until the lame duck session starts or even the end of December.
I'll refrain from commenting on whether or not I want these provisions to expire, but let's just move ahead and say that some or all of them do.  How will your household be affected?
The website of one of my favorite podcasts, Planet Money, summarized the key points of possible change in the fiscal cliff.  You can see all of them at their website, but I decided to pull out a couple that I thought might affect people similar to us and to determine what will happen to our tax liability if the changes go through.
Bush Tax Cuts:  The reversal of the Bush tax cuts means that just about every tax bracket will be bumped up to a higher percentage, for instance the 25% bracket will go up to 28%.  We are in the 15% tax bracket so our top tax rate will not change, but since the 10% bracket will be lumped back in with the 15%, we will pay 15% on the portion of our income that we paid 10% on before.  Looking at at this year's tax tables, I see that amounts to about an extra $870.
Payroll Taxes:  Payroll taxes are set to rise from 4.2% back to 6.2% and if they do our monthly take-home pay will be reduced by about $90.
Healthcare Taxes: The Planet Money piece states that this "will mainly affect households with income over $250,000 a year," so they shouldn't affect us.
Dividend income will be taxed as ordinary income: We had a small amount of dividend income last year but if I remember correctly it was taxed at 15% (the max at the time) because it was all short-term.  For next year we will be taxed 15% on short- and long-term because that's our ordinary tax rate so I'll call that a wash.
Marriage Penalty: Once the marriage penalty is reinstated, the standard deduction for married filers will no longer be double what it is for single filers but somewhat less.  I don't think the standard deductions for 2013 have been released yet as I couldn't find them, but I did find a source that estimates the penalty for two people exactly in our situation ($50k, no kids) to be $435.
Spending Cuts: None of the spending cuts mentioned by the Planet Money piece are likely to affect us as we are employed and not on Medicare – unless the next budget cuts back NIH funding even further, which would endanger our livelihood.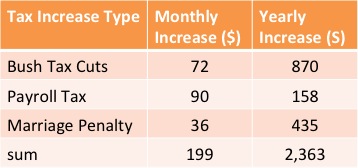 So if these fiscal cliff changes actually go through, we will see our take-home pay reduced by about $200/month – an effective 5% pay decrease!
I didn't intend this post to be an exhaustive study of the possible fiscal cliff changes, nor am I trying to predict what will happen in Washington.  I just wanted to start considering the possibility of reduced take-home pay so that I can figure out how our budget will accommodate it in advance of it actually happening!
Which parts of the fiscal cliff do you think are likely to go through?  Have you thought about what your increased tax burden may be?  What would you do if you suddenly had 95% of the take-home pay you did the previous month?
Filed under: taxes · Tags: budgeting, fiscal cliff, taxmageddon