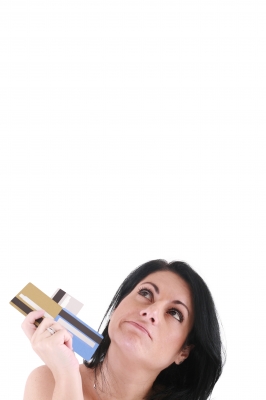 Every few months Kyle and I consider adding a credit card to our collection to further optimize our rewards.  Most of the time we decide not to open a new account but over the summer we each opened one new one for different purposes.  (We never carry a balance and credit cards do not interfere with our ability to stick to our budget.  I recommend that you develop a track record of perfect use of your existing credit cards before you consider opening new ones.)
Now that we are up to six credit cards I have begun asking myself how many is too many, even though there always seem to be more attractive rewards offered.  Somehow six seems like an awful lot, but really what are the pros and cons to adding additional credit cards to one's financial structure?
Pros
Increased credit limit/credit score
With each new credit line you open, your overall credit limit is increased.  1) More money is available to you to borrow.  2) Your credit score takes into consideration the percentage of your overall available credit that you use, so if you increase your credit limit without increasing your borrowing that will positively affect your credit score.  (The converse of this, though, is that closing a credit account can have a detrimental effect on your credit score by decreasing your overall credit limit.)
Further optimize rewards
This is the main perk we care about when considering opening new cards.  If you use credit anyway (and properly), why not get some rewards for the spending you would already do?  Maybe you have a card that gives you 1% back on all purchases but you see an offer for 5% back in a category you use often.  As long as your overall spending is not affected, using a credit card that gives you high rewards is arguably a frugal option.
Signup bonuses
While I wouldn't advocate opening a new line of credit solely for the signup bonus, it can definitely sweeten the deal.  After you meet the necessary qualification for the signup bonus, there is a lot you can do with up to a couple hundred dollars to boost your overall financial picture.
Cons
Hard pull decreases credit score
Getting a new credit card will have a negative effect on your credit score as well as a positive one.  When the credit card issuer checks your credit they do a hard pull, which will decrease your credit score between one and five points in the short-term.  It may also be difficult to open multiple accounts in a short period of time.
Possibility of paying interest or fees
Will the additional card be the straw that breaks the camel's back and cause disorganization in your finances?  If you overwhelm your organizational ability and lose track of your various accounts, balances, and due dates, your credit cards can turn from an useful tool to an instrument for self-injury.  You can end up paying interest or late fees unintentionally and unnecessarily – I find this to be the biggest possible con of all.  I recommend using an aggregating site like Mint.com to keep all your accounts in the front of your mind and pay off the balances far before they come due.
Can't keep up with optimal rewards use
Another possible ramification of the disorganization caused by having too many credit cards is sub-optimal use with respect to the rewards.  If every time you get in a check-out line or click over to an online cart you have to ask yourself which card to use, you are bound to accidently only get 1% back on some purchase instead of 2% or 5%.  If your purpose for opening a new card is to further optimize rewards, you must ask yourself honestly how you will remember which card to use and evaluate how likely you are to stick to your designed system.
More money spend on annual fees
If you open cards that have annual fees, those fees can add up.  And with each additional card you open the marginal rewards decrease so the fees become less and less worth it.  Many cards offer to waive the fees in the first year you have the card, but you have to get the fee waived again, cancel the card, or decide that the rewards you're getting outweigh the fees.
Physical limits
My wallet only has space for 8 cards and it's currently full!  If I wanted to add a new credit card I would have to drop another one out of my wallet.
Conclusion
As with many other things in life, if everything goes perfectly there is little downside to adding credit cards. Most of the potential detriment comes from disorganization so there is probably a natural limit for each person/system.  Whether or not adding a card is a good idea for you take some self-evaluation regarding your motivations and weaknesses.
I think Kyle and I have reached our natural limit for memory with the addition of our Amazon card.  We're supposed to be using it for dining but I never think of it!  If we want to add another card, I might need to resort to carrying a little index card with me to let me know which card to use each quarter for each type of purchase, which sounds kind of lame.  Feeling lame in the check-out line might be worth it for some additional rewards, though…
What is your thought process when you consider adding a new credit card?  How many credit lines do you currently have open?  What for you is the biggest upside and downside to adding a new card?
photo from Free Digital Photos
Filed under: credit cards · Tags: new account, rewards, signup bonus