It took over two months, but all of our moving-related expenses have finally come into our mailbox and been tallied!  I can now report how much the move cost us.
We moved from a 1200 sq. ft. apartment to a 1200 sq. ft. townhouse 5 miles away (and much closer to school and church).  We had a week of overlap in rent and utilities between the two places and during that time we boxed and packaged up all of our things.  On the Saturday at the start of our overlap three of our friends came over to help us move our furniture and larger boxes, and then Kyle and I followed up throughout the week bringing over our smaller stuff.
Direct Moving Expenses
This is the category that is most applicable to others, I guess – the part of the moving process that we had the most control over.  We rented a UHaul for a few hours and paid for its gas, plus we provided food and drinks for our friends who helped us move.
UHaul truck rental -$69.97
gas for UHaul truck -$13.52
snacks and drinks for friend-movers -$10.29
pizza for friend-movers (with 50% off promotional code!) -$23.35
adding my car back onto our insurance for one day so we could move it -$1.24
total: -$118.37
Not bad at all, I think!  We didn't buy any boxes or any other supplies for the move, just used free boxes we got from a couple sources and some tape we already owned.
Non-Refundable Expenses
This is money we're not going to see again that was directly caused by moving.  There would have been another installation fee but our internet company waived it because we set up recurring payments.
application fee for new place -$60
water initiation fee -$15
ID verification to change address with post office -$1
driver's license change fees -$20
total: -$96.00
Two Residences Overlap
This was the most expensive component of our move – paying rent and utilities for two places for a week.  We originally didn't want a 7-day overlap but that's how it worked out with the way the weekends fell, and we ended up using all of the time to get our many, many, many boxes of "little stuff" over to the new place.
rent -$202.10
water -$1.67
power -$35.81
total: -$239.58
This category was also the most difficult to track/estimate.  The partial rent was straightforward.  But because of the change in billing periods how much we paid for the overlap is difficult to determine.  The water amount is what was over-budget for the last three months and the internet and power amounts are our last bills from the apartment (so probably for more than a week).
Things Purchased and Sold
New things we bought:
bath mat and linens ruined by our last apartment/in the move -$25.44
storage containers for our china -$67.88
bookcase (housewarming gift from my parents!) $0
Old things we sold:
washer $150
dryer $80
pebbles from our wedding centerpieces $20
votive candle holders from our engagement $10
total: $166.68
Selling the washer and dryer was a big bonus.  Kyle remembers that he only paid $150 for them when he bought them 5 years ago!  Our townhouse has a lot less storage space than our apartment did so we had to buy some things to help store our stuff.  We asked my parents to pick up a bookcase for us at IKEA on their way to visit us and they ended up gifting it to us.
Refundable Expenses
We got a small deposit back from our apartment complex and had to pay a huge deposit for our townhouse.  We also had to paid a deposit for our water.
townhouse security deposit -$895
apartment security deposit $50
water deposit -$50
total: -$895.00
Rent Savings
Every month now our rent is $110 less than it was before (and $170 less than it would have been if we stayed).  So far we have three months of savings racked up.
So all of our moving expenses (and few credits) aside from our refundable deposit sum to $287.27, which means that we have paid ourselves back with our rent savings within three months!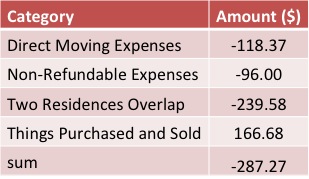 All in all, we paid the move back a lot faster than we had expected.  We though it would take 5-6 months of rent savings to repay it but selling the washer and dryer really helped with the bottom line.  The move was definitely worth it with such a quick payback time.  We still want to buy a table for our front hallway so that will probably edge us over 3 months of expenses but I hope not by much!
How much did you spend on your last move?  Do you have any cost-saving suggestions for in-town or long-distance moves?  Do you use professional movers or bribe your friends?
Filed under: housing · Tags: local move, rent