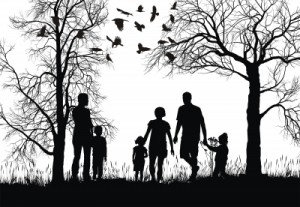 One of the money conversations I was a part of over the holidays concerned a family estrangement over money.  A parent was constantly giving money to his adult son and his adult daughter objected repeatedly, saying that if her father was going to give money to her brother he should give her an equal amount.  The result was that the daughter was cut out of the father's life and the father is still giving money to his son.
The person relaying this unfortunate situation sympathized with both the sister and the father.  The sister had done everything right in her life – college, self-sustaining job – but since her brother appeared to need financial help from their father, she felt that he was being rewarded for being kind of a deadbeat.  But of course, a parent doesn't want to see his child, adult or not, suffering or going without when he has the means to provide.
It's not that surprising to me that the relationship between the daughter and father ended after she said that she should be receiving an equal amount of money.  However she really felt about it (maybe she was just trying to make a point), that sounds like greediness and it's-not-fair whining, as if she were still a child.  The fact is that the father's money belongs to him and it's his prerogative what to do with it.  He's under no obligation to give an equal amount to each of his children, as much as we might think that is the "fair" thing to do.  He's still alive so it doesn't matter that he is spending the daughter's presumed inheritance or whatever.
Could the daughter have had good intentions, though, and would that matter?  Certainly you don't want to see money being used to damage people – either decimating the father's savings when he needs it in his old age or hampering the son's ability and motivation to become self-sufficient.  The father probably is throwing good money after bad by constantly subsidizing his adult son's lifestyle and not forcing him to learn how to earn and manage his own money.  I don't know how you would convince either the father to stop giving money or the son to stop asking for/receiving it, but I'm certain that inserting your own interests into the situation would backfire.
Hearing this kind of story helps me a lot because money doesn't go around completely equally in my family-of-origin and I need occasional reminders that my parents' money management is their business, not mine.  My parents spent way more money on my education than they spent on my siblings', but my siblings have not yet become financially independent from my parents.  Sometimes I think my parents would be better off if my siblings successfully launched, but my siblings could turn around and think the same thing about them paying for my private college education.  Ultimately my parents are going to put money toward what they want to so it's their choice!
What would you have done if you were in the daughter's place?  Do you think parents should distribute their money equally among their children?  Have you ever tried to intervene in a family member's poor financial choices?
photo from Free Digital Photos
Filed under: family · Tags: estrangement, money problems, siblings