Confession time: Until very recently, Kyle and I didn't have a proper emergency fund. We had some cash on hand and then of course accessible investments (our house down payment and student loan payoff money), but I figured age-30-with-a-Real-Job was time enough to work on that personal finance 101 advice of having a true emergency fund.
We've let this aspect of our financial life slide for so long because our financial life was rather small and simple and we did have some cash on hand. We also had, during grad school, two pretty stable incomes. Now our situation is very different: We have higher expenses and are in potentially unstable jobs. We also have more ability to build an emergency fund now than we used to.
A couple months ago, we converted the sum of our previous targeted savings accounts to our new emergency fund. (Last fall, we switched to keeping our irregular expenses savings in our checking account, and that balance is quite healthy.) As of the start of 2016, we had $10,330.45 in the account. In January, we rearranged our budget a little and found $150 that we can add to this account monthly, and we also decided to contribute the discretionary portions of my paychecks and all the windfall-type money we receive (e.g., Christmas cash gifts, our expected self-tax refund). So the emergency fund has been growing at a pretty healthy rate.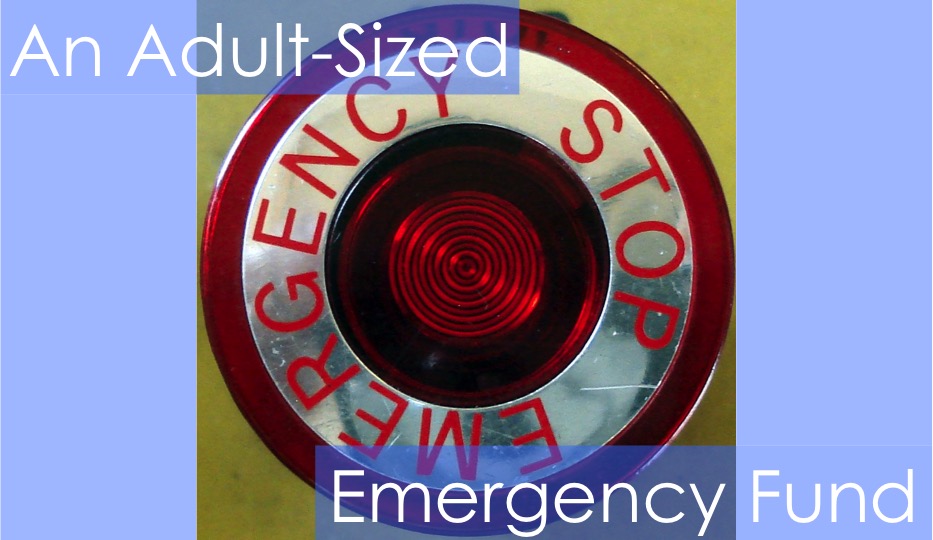 However, we haven't quite pinned down the target dollar amount for our adult-sized emergency fund. While I'm quite familiar with the various ways to calculate emergency fund size, we still have to make the call in our own life. I don't really see the need to keep upwards of a year worth of expenses in cash for the sake of potential employment loss – Kyle received interview and job offers very quickly last spring and we're definitely not falling into the two-income trap! In terms of the stuff in our life that could create emergencies, we live pretty lightly – we rent, own one car (that we don't rely on for commuting), and have health, renters, and auto insurance. I don't see any major argument there for a large emergency fund.
We also have a few options for calculating what a month's worth of expenses actually is – the amount of money we spend on monthly expenses, the amount we spend on monthly plus irregular expenses, and the amount we would need for an emergency stripped-down budget. Our current emergency budget is quite close to our monthly expenses, as the only irregular expense we would still need to incur in the case of an emergency is our car insurance (an extra $50/month approximately), and that version of our budget seems to me to be the most logical one to use for an emergency fund calculation.
Six months of expenses, as estimated by our emergency budget, is $14,856. This amount is well above our family out-of-pocket maximum for our health insurance and enough to buy another car, so it's comfortable for those types of emergencies (both, even!) as well as for income loss.
Our tentative current goal for our adult-sized emergency fund, then, is a nice round $15,000. When we get to that amount (just a month or two from now, most likely), we might re-evaluate and decide to increase the size of the fund. Realistically though, we're not going to start wasting the money that has been going into the emergency fund, so we might just set another saving or investing goal. Anything is more exciting than beefing up an emergency fund, right?
How do you calculate your emergency fund size? Are you satisfied with the amount of money currently in your emergency fund? What are your strategies for increasing your emergency fund size?
photo by Tom Magliery
Filed under: emergency fund · Tags: emergency, saving