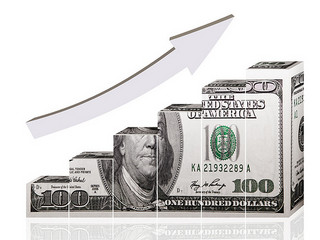 I went to a career-type workshop this week and the guest speaker was a man who had earned a PhD in engineering and an MBA within the last few years and is now working in the private sector.  It was a great talk because he was able to compare for us the daily life of a person working in several different types of private sector jobs that are typical for PhDs to transition into (start-ups, entrepreneurship, large companies, consulting, academia).
One of the exercises that he did when he was finishing his MBA that he encouraged us to consider was ranking these different job types on a few factors that were important to him and then adding up the scores to see which type of job he estimated would satisfy him the most.  Two of those factors were short-term compensation and long-term compensation, and his metric went from -4 to 4.
For a while we let him go on talking about how the compensation on this type of job would be a "2" and this one would be a "3" and this job had long-term potential to be a "4" before someone finally asked him how those scores translated to dollars.  He danced around the question a bit, but then gave us his general ranges:
1 – $80,000 to $120,000 per year
2 – $150,000 per year
3 – $300,000 to $500,000 per year
4 – a million dollars or more per year
The speaker clearly valued jobs that are about a "2" for now but have a "4" in long-term potential.
Throwing out ranges like that was a bit shocking to me and I suspected that his MBA training had greatly influenced his salary expectations in comparison with his PhD training.  It made me consider what I think a "good" salary is, particularly for a first job post-PhD (keep in mind that's around the late twenties to early thirties for most people):
1 – around $35,000 per year (about what a postdoc is paid)
2 – $50,000 to $60,000 per year
3 – $80,000 to $100,000 per year
4 – $120,000 to $150,000 per year
If I had a 1 salary in a few years that would be disappointing but fine and if I had a 4 salary right out or within a few years I would be beyond thrilled. I guess I'm expecting a 2-3 if I do something typical with my PhD, aside from a postdoc, which is Kyle's next step.  (When I asked Kyle what he thought a "good" salary would be, he said $100,000 per year.)
To combat lifestyle inflation when we get to the salary levels I mentioned, I need to keep in mind that those salaries are way, way above what we're making now, at which we are more or less satisfied.  The median household income in the US in 2009 was $49,777 (source) and if Kyle and I both received what I consider a "3" salary or higher we would be in the top 5% of US earners (source).  But where we're living will matter a lot as well – the cost of living in our hoped-for future home city is about 50% higher than where we live now (source) so if we both have "1" jobs in that city that will be an effective decrease in purchasing power.
I was just amused/surprised to see how high this speaker's rankings were, but I assume it was inflated from looking at what his business school classmates were able to earn with their post-MBA jobs.  Mine are inflated too by the expectations of the types of jobs typical for my future degree.  We don't need to earn that much to survive and thrive, and likely won't if only one of us takes a typical job and the other does something atypical.
What would you consider a "good" salary for you now, when you were first out of school, or when you complete your terminal degree?  Is that more determined by your personal needs or your job type?  Are you ever surprised by the salary expectations of others?
photo by 401(K) 2012
Filed under: income