Irony: My car breaking down the day after writing about our disagreement over carpooling to work!
When I published that post on Monday becoming a one-car family seemed a remote possibility, but as of this writing on Tuesday evening we are giving it serious consideration.  So much can change in 36 hours!
For the last few months, my car has been shaking considerably when its speed exceeds 65 mph.  I knew I would eventually need to get that checked out but it didn't seem like an acute problem.  On Monday morning when I was pulling out of my parking space at our apartment, I hear a weird creaking nose that seemed to be generated by my wheels turning.  I thought that was strange, so Kyle drove me to work and we thought we'd check it again the next day when it wasn't so cold.  On Tuesday morning, my car wouldn't start.  The engine didn't turn over at all.  We eventually were able to jump it (on about the 5th try) and we decided to drive it straight to my mechanic.
Later Tuesday afternoon we got the diagnosis: the car needs a new alternator, four new tires, and new shock and struts.  The total bill was $1600.
We quickly ran down the balance in our "Cars" savings account and our upcoming expenses.  We can reasonably spend the entire balance now without major repercussions in the next 8 or so months, but that's only $600.  For a long time we weren't funding it anticipating maintenance/repairs and even though we have been recently it's still underfunded for that purpose.  One of the pitfalls of targeted savings accounts!
We have the remaining $1000 available in cash but it would knock our savings pretty significantly.  We also had to consider the current value of the vehicle (around $3000) and the "life" left in it (we had hoped for many more years as the car is a 2002 and has fewer than 100 kmiles on it).
From that point, we saw four options: complete the full repairs immediately, pay $800 now to get the car running pretty well and the remaining $800 a few months down the line, pay $800 now to get the car running and put off the other repairs indefinitely, and not complete the repairs/stop driving the car.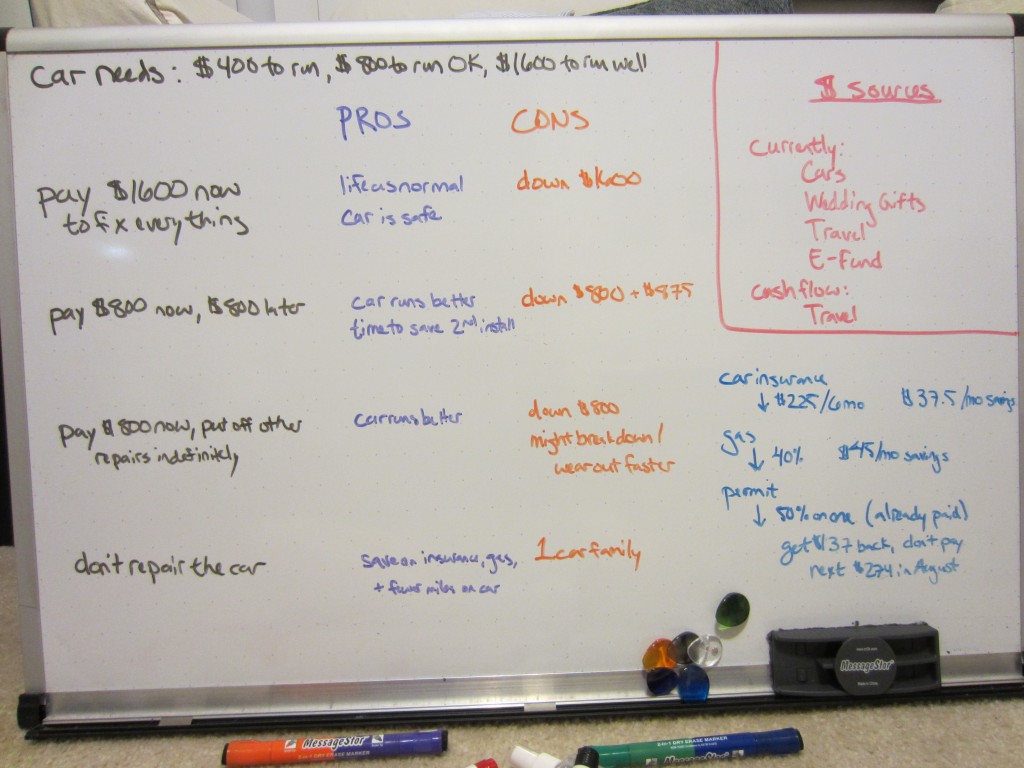 Any of these options were viable.  We have the cash to finance any of the options (though painful) and ceasing to drive my car is also a possibility.  After discussing it for some time, both of us felt the two most extreme options were best – either repair the car completely now and repay the money to ourselves over time or cease using the car and put off repairing it until we need to become a 2-car family again.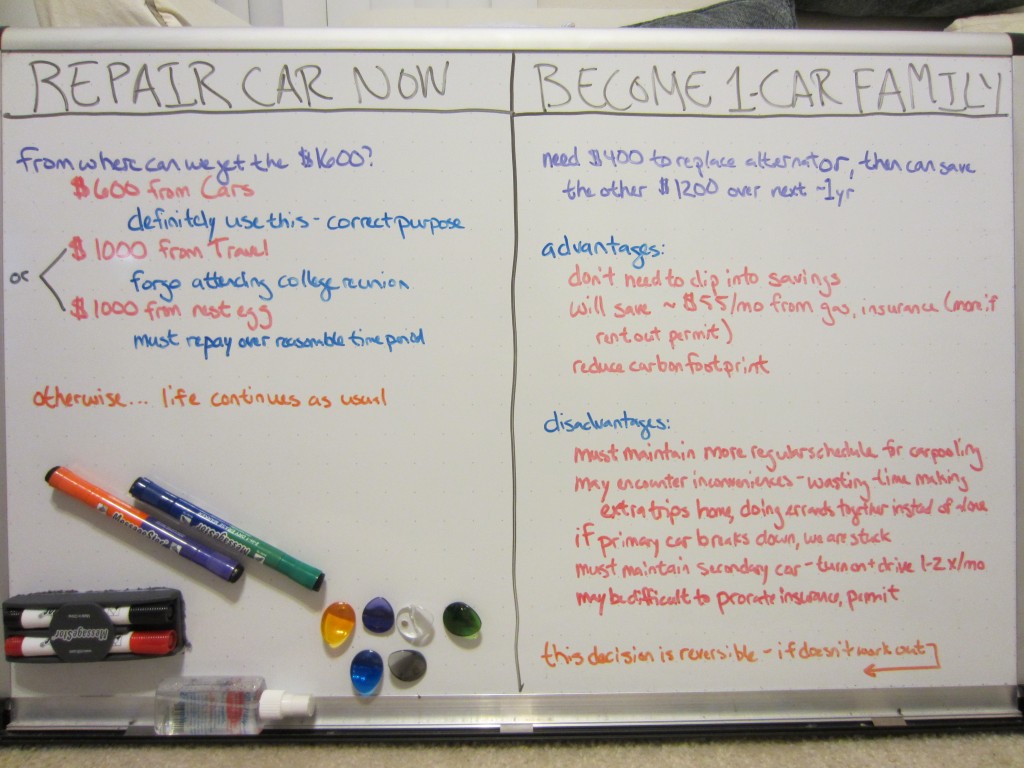 To repair the car now, we would use the $600 in our Cars account and take the other $1000 from either our Travel account or our nest egg.  If we take it from Travel, we won't be able to attend our 5-year college reunion in April.  The nest egg is not supposed to be used for this purpose – we have vaguely said it should go toward a down payment for a house or a car, but it also functions as an extension of our emergency fund.  If we take the amount from the nest egg, we will need to repay ourselves, ideally over the next year or less.
Forgoing repairs would mean that we won't be able to drive the car any longer.  On the minus side, we would have to rely completely on Kyle's car, which would take some schedule adjustments.  On the plus side, we would save money by removing the car from our insurance policy, using less gas overall, and possibly being able to rent out its parking permit.  Since we work at the same place and have a lot of common activities, sharing a car isn't totally unreasonable but it might be a bit annoying at times.  We don't want to get rid of the car because once Kyle graduates and gets a job and another university we'll need a second car again.  We would essentially just delay doing the repairs until that point, which would also give us some time to save the money we need so we don't need to use our savings.  We would just repair the alternator now and save the new tires, and struts and studs for that later time.  The good thing about this choice is that we could undertake the one-car family experiment for a limited period (like 3 months) and if it doesn't work out, we can just get the repairs done and we're no worse off than if we did them right away.
After discussing all of this, I'm leaning toward trying the one-car idea and Kyle is leaning toward doing the repairs now.  It's not clear if we will have to give up on going to our college reunion (which I want to attend and Kyle doesn't).  Sorry to leave you hanging, but I don't know which way this is going yet!  Stay tuned for the decision in an upcoming weekly update.
What would you do in our situation?  Would you give up a trip to repair the car or take a hit to your savings?  If you have ever shared a car with your spouse, how did you make it work?
Filed under: budgeting, cars, choices, emergency fund, targeted savings · Tags: car repairs, one car family, reunion, targeted savings, whiteboards