Everyone's heard the phrase "two can live as cheaply as one."  In one sense it's absolutely true: when you live in a home by yourself and someone moves in with you – a roommate or spouse who pays his own way – your per capita expenses will go down.  You have someone to split the rent and utilities with.  But the way the phrase is usually applied is to married couples – as if just by getting married and moving in together, you should save money.  We didn't find this to be automatically and immediately true.  I'll share with you the four areas in which your spending could change when you transition from single to married, based on our experience and observations.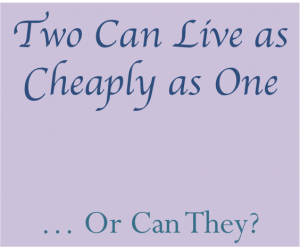 Automatic Savings
The sole budget category I can point to and say unequivocally that getting married saved us money is our car insurance.  We got a major rate cut for having more than one vehicle on our policy.  Other than that, I can't say our finances and budget really changed right from the get-go.  We went from living in separate two-bedroom apartments with roommates to sharing a two-bedroom apartment, so our per-capita rent and utilities stayed more or less the same.  We ate the same amount of food and kept up our personal care the same as before – clothing, drugstore products, etc.  Our driving costs didn't change, either, because we had only lived 1 mile apart before we were married and didn't increase our frequency of commuting together until my car broke down.  Since our jobs both provide health insurance we didn't access any benefits previously unavailable to us, nor did our tax rate budge since our incomes were so similar.
Upgrades
When you meld lifestyles with your spouse, there are bound to be a few differences in the products on which you choose to spend your money – on many items, one of you spends more and one spends less.  In the compromise, you could either upgrade or downgrade from the average of the two (or find a solution right between), but I have observed that at least initially we have compromised to upgrade.  The person who is paying more probably cares more about that product and so his/her opinion will win out.  Therefore, the person who used to spend less on the product is now spending more, and overall expenses rise.  For instance, when we got married I moved into Kyle's apartment, which was nicer and more expensive than my previous apartment.  I'll give you a couple smaller examples.
Cable: Before we were married, Kyle had a cable and internet package that he split with his roommate, and I and my roommate only had internet.  When we set up our first budget we kept the cable, so my expenses increased again.
Yogurt: At the time we got married, I had started eating Greek yogurt and I thought that was more healthful.  Kyle also liked yogurt but he bought cheaper brands.  I bought yogurt in the 2 cup bulk containers and took it to work in little Tupperware containers.  Kyle bought individual containers to take to work and thought it was a pain to aliquot the yogurt from bulk to individual containers.  By consolidating, we ended up buying individual Chobani containers, which was more expensive than either of our preferences alone!
Behavior
Behavior changes are the main way we have realized spending reductions and saving increases since we were married.  This of course does not automatically happen upon marriage, but the act of delineating joint goals for the future and having in-house accountability facilitated it happening.  Because we wanted to aggressively save in some areas, we cut our eating out budget and cut the cable.  We entertain ourselves and friends more in our home than by going out and spending money.  I started feeling behind by only contributing 10% to my Roth IRA while Kyle maxed his out, so I increased my savings rate.  Impulse spending dropped because now that we had to justify our spending to the other (which I think is a good result of having all joint accounts).
Family and Peer Influences
This final area is one that I think can nudge married couples to increase their spending.  Some people view marriage as a passage into real adulthood and expect that you have a fully furnished home, preferably not from Craigslist.  You get all this awesome new stuff as wedding presents, and you may feel that you need to buy out your registries to complete the picture.  Many previous renters even buy a home or upgrade their rental when they get married.  We resisted this implicit pressure by crying "student" but I've seen others make the choice to scale up their lifestyles.
One area in which we have increased spending is that we travel together more.  Kyle never got a +1 or an invitation for me to any of his family weddings until we were engaged, so he only had his individual travel costs to contend with.  Now, we attend together.  So overall we're attending more weddings and other social events per capita because we receive more invitations as a social unit now that we're married.  We also have double the family to visit, which doesn't quite double our travel costs for that purpose but it has increased them and we are less flexible in our dates to find low rates because we have to consider both of our work schedules.
Based on this qualitative retrospective, I'd say "two can live as cheaply as one" has not been true for us, and it's even possible that we have increased overall spending since we got married.  This conclusion turns very strongly on our personal setup of living with roommates before we married and earning approximately equal amounts of money.  Your mileage may vary!
Have you found "two live more cheaply than one" to be true or false for you and your spouse?  In what areas did your spending increase and in what did it decrease after you got married?
Filed under: budgeting, choices, frugality, goals, lifestyle creep, marriage, spending · Tags: behavior changes, couples, downgrading, peer pressure, singles, taxes, upgrading