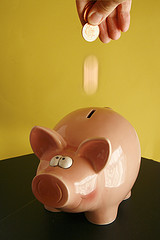 aka Why You Should Save For Retirement Even with a Low Income
This two-part post is intended to inspire graduate students who are currently not saving for retirement to start.  The graduate students I refer to in this post are those who are being paid a living wage while in school – that is, they are not taking out loans for tuition or living expenses and can keep their must-have living expenses (rent, utilities, food, etc.) to around half their net income.  Others who are not currently saving for retirement, because of a low income or other reason, may also find these posts motivating.  I think that people in significant amount of debt, particularly high-interest debt, should prioritize paying that off before saving much for retirement, so just apply the rationale for saving for retirement to aggressively paying down debt if you are in that situation.  Please remember that I am not a financial planner or CPA and you should not consider my opinions financial advice targeted for your situation.
In today's post I will present one long argument why graduate students should save for retirement and in Friday's post I will present three short arguments.
1)  Compound Interest: Make Your Money Work for You, and Then Make Your Money's Money Work
I hope that anyone reading PF blogs would know what compound interest is, but just in case you don't: compound interest, when you harness it to work in your favor, is truly awesome.  The money you invest earns a certain rate of return, which is added to the balance.  Then that larger balance earns a rate of return and grows even larger.  And even larger, and on and on.  Sounds good so far, but let's look at a simple example that will blow your mind.
Let's take $5,000 and invest it in a vehicle that provides 8% in interest, compounded monthly.  (I used this calculator.)  You can see that as the decades go by, this investment grows to crazy high balances!  And they accelerate in their crazy-high-ness the longer you leave it compounding.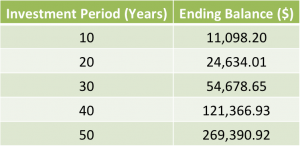 The power of compound interest clearly lies in the length of time you allow the investment to grow.  So by choosing to start investing for retirement while in graduate school, I'm gaining 5+ years worth of investing time.  How much would that be worth?
Let's say "Jamie" starts her PhD at age 22 and graduates at age 27 (don't we all wish we were like Jamie!).  Her stipend is $24,000 per year and she saves 10% into a retirement account in which her money grows tax-free earning a 10% return.  (Since she's largely or completely invested in the stock market, she's garnering returns, not interest, but we estimate them the same way.)  At age 27, when she starts her first "real job," her retirement account balance is $15,616.48 (she put in $12,000).  If Jamie continues to earn a 10% return on that money (generally accepted as the historic rate of return in the stock market) until age 65, the balance from just the $12,000 she invested during graduate school will grow to $687,169.41 (or $221,538.96 after taking estimated 3% inflation into account).  That is not chump change by any means and will likely be a significant fraction of her total retirement savings.  That's money that she would not have had if she had chose to put off investing.
Of course, it is possible to make up for lost time (though not easy).  If you expect to make a lot lot more money post-graduation than during graduate school, you could choose to add $16,000 to what you would have saved anyway for retirement in your first year after graduation.  That would make up for the lost time, although it would cost you an extra $4,000.  But do you really think you will have the discipline to do that?  And don't forget, there are limits to the amount of money you can put into tax-advantaged accounts in a given year (for example, $17,000 into a 401(k) and $5,000 into an IRA in 2012).  If you're making such a ridiculous amount of money after graduating you'll probably want to max out those accounts anyway and you will pine after those years in which you didn't contribute anything to the tax-advantaged accounts available to you.
For further reading on the power of compound interest, see articles in Kiplinger, Mind Your Finances, Get Rich Slowly, and My Money Design.
The compound interest argument alone is enough to convince me to start saving for retirement.  Mathematically, I want that additional time and access to tax-advantaged accounts.  But perhaps it's not enough to convince you, which is why I have three "softer" arguments as well coming up on Friday.
Were you convinced to save for retirement by reading descriptions of compound interest?  Do you still put off saving despite knowing the time cost?
photo by Alan Cleaver
Post script: The examples I have used here are very typical for illustrating the power of compound interest.  However, they are unrealistic as predictors for retirement balances for a couple reasons.  1)  There is no guarantee of a consistent return or that the future stock market will behave like it has in the past – if you even accept the 10% rate of return figure.  It will be a bumpy ride and may disappoint.  2) It would be very unusual for someone to stay 100% invested in the stock market right up until retirement.  Standard asset allocation advice would move a greater and greater percentage of the portfolio into lower-risk investment vehicles such as bonds, which would likely provide a lower rate of return.  Keep this in mind when you read posts promoting the power of compound interest.
Filed under: choices, featured, grad school, retirement · Tags: compound interest, grad student, graduate student, low income, PhD student, retirement, Roth IRA, time