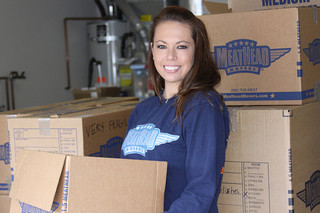 I admit it – I was a boomerang kid.  It grates on me to admit that, since I boomeranged in 2007, before it was a big thing.  I lived with my parents for about six months post-college before moving closer to my job.  The long commute and close quarters with my family really got to me late in the fall, so I planned and executed my move within a couple months.  I didn't know nearly as much about personal finance back then, so I had no emergency fund and virtually no savings.
It looks like my younger sister will be moving out of my parents' house in the near future, so I tried to think of the steps I would recommend she take to properly prepare herself.  She's never lived out of my parents' home except during college and will stay in the same area to keep her job.  This post is written with her in mind, but it is adaptable to other types of moves and life transitions.
1) Assess and improve your finances.
Any savings or possibly emergency fund can be used to bridge you to your new place to pay your first month's rent/security deposit and to buy any items you may need.  If you don't have much in the way of savings (as I didn't and my sister doesn't), start putting money away as fast as possible to prepare.  Cut your lifestyle to the bare essentials and start keeping track of what you really need to spend if you haven't been already.
2) Research where you will live.
Even if you don't need to sign a lease immediately, you at least need an idea of what you will pay in rent and utilities.  And if you can find a good rate and lock down a place, go for it!  Renting a room in an already-established roommate-household is a good option, and so is finding like-minded acquaintances who are willing to become roommates.
3) Identify your property and list what you need to buy.
If you are leaving your parents' house for the first time, it may be ambiguous what belongs to you and what belongs to them.  Will you be taking a car with you (and is it in your name)?  Do you have any furniture that your parents will part with?  Do you own any cooking equipment?  Create two lists: items you need by the time you move and items you will need to buy in time.  Virtually all furniture will be on the second list (even a bed!), whereas buying at least a small amount of cooking equipment early on will save you from eating out once you make your move.
4) Draft a budget.
Try to project what you will be spending a few months after your move, once things have settled down.  Ask your parents to help you estimate your part of some expenses they have been paying for, like utilities, groceries, gas, and car insurance.  Give yourself at least 10% of slack in your budget in case you have forgotten or underestimated some expenses.  Do you make enough money to sustain this budget?  If you don't, can you pick up more work, ask for a raise, or add some side hustles?
5) When you have enough bridge money, move!
Make sure you have at least a small emergency fund as well as enough savings to cover your direct expenses from moving (trucks if you need them, application fees, deposits, utilities you pay in advance) as well as the purchases you need to make to set up your independent household (don't forget about stocking a basic pantry!).  If you absolutely have to move by a certain date and haven't built up your savings enough, see what you can borrow from your family and friends in terms of time and belongings.  Maybe your parents will lend you a car or some old cookware until you can buy your own.  Be creative to find out what you are able to substitute or live without.  Remember, it doesn't have to be a perfect home from day 1 – you can build that up over time.
What further steps or tips would you provide to someone preparing for a move to their first independent home?  Is there anything you wish you would have done differently when you first moved out?
photo from Meathead Movers
Filed under: transitions · Tags: bridge money, first home, living at home, moving out