Kyle and I never had to sit down to have any one big money disclosure talk.  We started dating in college so we saw one another go through the transformation from dependent on our parents to being independent adults, with all the minor steps that happened along the way.  We talked over our stipend offers for grad school, possible places to rent, how I was dealing with my student loan and car debt, and where to invest our Roth IRAs.  There have never been any money secrets between us because we built up trust in one another before we had any money stuff going on (aside from student loans and summer stipends).
I realize not everyone is in such a position, though, and most people moving toward marriage have plenty of financial baggage that their partners may or may not be aware of.  How should they decide what to reveal and when?
There are going to be as many answers as there are individuals, of course.  Some people are just much more open about money than others and people build trust within relationships at different rates.  But I'll give you a few thoughts:
You should get all the really bad stuff on the table before engagement.
If you have an above-average debt load, especially if that debt isn't obvious from your lifestyle or resume (we can assume MDs and JDs are in major debt, and be pleasantly surprised if not), you should let your intended know as early in the relationship as you are comfortable and definitely before engagement.  If your career aspirations are low-paying to the point that you cannot support the future lifestyle you desire, he/she needs to know that before making the decision to marry you.  Anything that may deter your intended from marriage needs to be aired while marriage is under discussion but before anyone buys a ring.  You don't want to hold negative information back until after the decision to marry has been made, lest your fiancé(e) think that you duped him/her and resent you.
If you want to, you can wait to share really good stuff until after engagement.
Some people with high incomes, substantial savings, or an expected inheritance may be reluctant to let dates know about their means, lest they attract partners for the wrong reasons.  It's fine to keep the good stuff about your situation to yourself – for a while.  But after you have agreed to marry, you should let your fiancé(e) in on what you've kept to yourself to date.  It will almost surely be a welcome surprise, and you can be confident that your intended loves you for you.
Your partner doesn't need to know every detail about the past, but do reveal everything that affects you currently.
Don't feel that you have to confess every bad purchase or bad habit from your past.  If you have damaged credit, it's enough to 1) state what your credit score is and how quickly you expect it to recover and 2) explain the checks you now have in place to maintain a healthy relationship with money.  Let your partner know the areas you still struggle with and where you will need his/her help.  I don't believe that you must be out of debt in order to marry, but you should have addressed and corrected on your own the causes for you (particularly consumer) debt.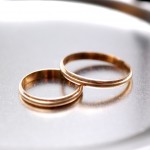 Remember that it all has to come out before the wedding.
If there is anything (relevant) that you still want to keep from your fiancé(e) as you get closer to your wedding day, you really need to consider why the trust hasn't fully blossomed in your relationship.  Are you untrusting or is your partner untrustworthy?  Either way, you must work on the underlying issue before entering into marriage.  If you have some assets that you are trying to keep from your future spouse (red flag), a prenuptial agreement would be far more effective than attempting to keep him/her in the dark.
This set of disclosure conversations, whether it's one, several, or totally organic like it was for us, is an essential component to moving toward marriage.  However, there are many other money-type conversations you need to have so don't stop there!  You need to decide if you will handle your finances jointly, figure out how your money personalities will match, set up your first joint budget, talk over your career aspirations, and much more!
Have you had a big money disclosure talk with a partner and how did you handle it?  Do you agree that most things should be disclosed before engagement?  Have you ever disclosed a financial situation to your partner that made him or her rethink your relationship (or vice versa)?  Do you disagree that you should share everything before marriage?
photo by hisks
Filed under: marriage · Tags: engagement, financial disclosure, marriage, secrets, trust